In Fort Wayne, drug addicts can walk up to a low-slung, buff-brick building about two miles south of downtown on Tuesday afternoons and pick up 30 clean syringes.
Every time they come back, they can pick up another batch of clean syringes: one for every dirty needle they turn in. The goal is to discourage addicts from sharing or tossing dirty needles, which can spread HIV, hepatitis C and other deadly diseases.
"We tell people, 'You must bring these needles back or you can't get anymore,'" said Megan Tinkel, an Allen County Health Department spokeswoman. "They're responsible for bringing them all back."
In the 18 months since the program launched in November 2016—following an opioid epidemic that claimed 418 lives in seven years—nearly 500 people have walked up to the building on Oxford Street to request syringes.
And the health department says the vast majority of syringes handed out—97 percent to 99 percent—have been returned after use.
As far as public health officials are concerned, it's a success story, with a high needle-exchange rate that is almost guaranteed to reduce transmission of diseases.
Now, as Marion County decides whether to launch a similar syringe-exchange program, public health officials point to a growing list of reports and studies they say proves such programs are a worthwhile investment.
They say the programs typically cost just a few thousand dollars a year, much of it paid for in donations and grants. And the benefit is striking: reducing the risk of serious infection, which can cost hundreds of thousands of dollars per patient to treat.
"The economics are pretty clear," said Dr. Joan Duwve, associate dean for practice at Indiana University's Fairbanks School for Public Health. "Hepatitis C is really costly to treat: about $60,000 for a 12-week treatment. And the lifetime cost of treating someone with HIV can be hundreds of thousands of dollars."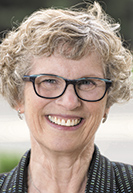 Duwve
Last year, the federal Centers for Disease Control and Prevention urged state and local health departments to improve access to syringe-exchange programs, saying the sharing of needles is a "horrifyingly efficient route for spreading HIV, hepatitis and other infections."
The District of Columbia says its needle-exchange program prevented 120 new cases of HIV infection and saved an estimated $4 million in just a two-year period ending in 2015.
Around the country, more than 300 cities or counties have set up syringe-exchange programs over the past decade, in major cities and rural towns.
Mixed support
The Indiana State Health Department strongly supports needle-exchange programs, calling them an important way to engage with addicts, get them into treatment, and reduce the spread of disease.
Fatal opioid overdoses are climbing in Indiana—from less than 20 percent of all fatal drug overdoses in 2000 to more than half in 2016.
But not all Indiana officials are firmly on board with the idea of handing out needles to addicts on demand.
Indiana Attorney General Curtis Hill, a Republican, has said syringe-exchange programs can actually worsen the drug crisis and lead to increased dirty needles and overdose deaths if they are not controlled carefully.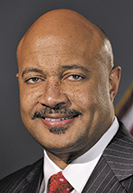 Hill
"Nationwide, handing out free syringes and needles to addicts has become a popular tactic intended to reduce some of the harmful effects of substance abuse," Hill wrote last year in an op-ed published in several newspapers.
"The idea is to dissuade addicts from sharing and reusing contaminated needles. When implemented in a very limited and targeted fashion, this approach at times has produced positive results. … However, these programs come with some risks."
He pointed to Anderson, which tried to prevent the spread of disease among heroin users by offering a needle exchange from August 2015 to August 2017. Madison County Prosecutor Rodney Cummings had complained that the program resulted in thousands of needles left on streets, in parks, in parking lots and around the town. He called it "completely unacceptable."
Last summer, the Madison County Council voted to end the program, which had been managed by the county health department.
But on June 5, Madison County commissioners, alarmed by rising rates of opioid overdoses, unanimously voted to relaunch the needle-exchange program for two years through a contract with Aspire Indiana Health, a not-for-profit that delivers integrated health care and social services.
That decision followed an Indiana State Department of Health study that showed that, from 2015 to 2017, the number of hepatitis C cases in Madison County had actually doubled.
Today, only a handful of Indiana cities or counties offers syringe-exchange programs: Bloomington, Lafayette, Allen County, Madison County and Wayne County. But under pressure from local health leaders and with the freedom of a more permissive state law, that number could grow.
Coming here?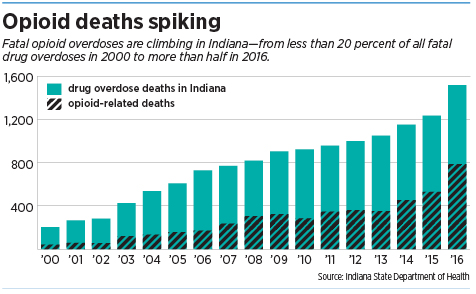 For several years, cities and counties that wanted to launch a syringe-exchange program had to make a case to the state health department for why it was needed.
But last year, the Indiana General Assembly passed House Bill 1438, which streamlined the process. Counties can now launch programs on their own, following a two-step process. The first step is for the local health department to declare a health emergency. The second is for the city or county council to vote to set up a program.
Last month, the Marion County Health Department started the ball rolling on that process. It declared an epidemic of hepatitis C—an often-deadly liver disease linked to injection drug use and dirty syringes.
The health department then proposed the first-ever syringe-exchange program in Indianapolis. The City-County Council is now considering such a measure.
The measure is likely to sail through the council. President Vop Osili has strongly endorsed it, saying it will boost public health and increase public safety. A who's who of health officials have come out in support—from Dr. Lisa Harris, CEO of Eskenazi Health, to Dr. Ryan Nagy, president of IU Health's Methodist and University hospitals.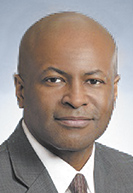 Osili
Marion County Health Commissioner Virginia Caine said the rate of reported acute hepatitis C cases in the county rose from 0.6 to 7.6 per 100,000 population between 2013 and 2017, much of it due to the opioid epidemic.

But those figures are likely underestimated, she added, noting that the CDC estimates the true number of hepatitis C cases nearly 14 times what is reported. That translated to approximately 1,000 new cases in Marion County in 2017 alone.
"I strongly support moving forward with a syringe-exchange program," she said, "as it will improve public health in Indianapolis and Marion County, while also saving taxpayers money by greatly reducing the burdensome health care costs related to injection drug use and infectious disease."
Marion County officials said they are still studying how to roll out a program but that it would probably start with a single mobile unit that could respond to neighborhoods heavily affected by injection drug use and overdoses.
The mobile unit also would offer testing for HIV and hepatitis C, overdose education, health care navigation and substance-abuse treatment. Later on, the county might consider adding a fixed location for the syringe-exchange program.
Changing attitudes
For decades, Indiana was among nearly two dozen states to criminalize the distribution or possession of syringes without a prescription. But an HIV outbreak in Scott County in 2015 changed everything. Local health and law enforcement officials were alarmed over the spike in new cases of the disease, apparently caused by a wave of opioid addiction and sharing of dirty needles.
More than 200 HIV cases had been reported in the county by 2015, making it the state's worst-ever concentrated HIV outbreak.
Then-Gov. Mike Pence was morally opposed to needle exchanges, on the grounds they might support drug abuse. In fact, during his six terms in the U.S. House, he repeatedly supported a ban on federal money for syringe-exchange programs
But after consulting health and law enforcement officials in the area, Pence changed his mind in spring of 2015, issuing an executive order allowing syringes to be distributed in Scott County.
Over the next few months, local officials and volunteers handed out thousands of clean needles, slowing the rate of new HIV cases.
Today, the Scott County Health Department operates a storefront syringe-exchange program in a high-risk area Monday through Thursday. On Friday, it operates a mobile unit that travels around the county.
"Being the first syringe service program in Indiana, there was hesitation in starting it," said Michelle Goodin, administrator for the Scott County Health Department. "But with all of our HIV cases being linked to sharing syringes, it was kind of a no-brainer. It was very much needed."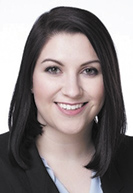 Goodin
Not all counties, however, have kept the faith in such programs. In southern Indiana, Lawrence County commissioners voted last fall to end the county's syringe-exchange program after just one year. Several officials said they had moral objections to handing needles to addicts.
Supporters in Lawrence County pointed out an 80 percent reduction in infectious diseases in the county since the needle exchange began.
"I worry that Lawrence County is going to be the next Scott County," resident Jared Stancombe told local reporters. "We're going to see businesses shutter. We're going to see young people like me leave."
Today, local programs must scrounge up the funds to buy the supplies. Federal law still prohibits the buying of syringes and related supplies for exchange programs. Many cities use donated funds or grant money and buy the syringes in bulk from the North American Syringe Exchange Network.
The local health departments, however, can use staff members and volunteers to run the programs, and local buildings and vehicles to operate them
Several health departments say their annual cost is only $10,000 or $20,000, which they call a winning proposition compared to treating addicts who have diseases that can cost hundreds of thousands of dollars a year.
"It really varies from program to program," said Duwve, the Fairbanks doctor, who has studied syringe-exchange programs in depth. "The buildings may be properties that are donated for use by a local hospital or a local benefactor. Or it may be the local health agency. There is not just one way that this is done."•
Please enable JavaScript to view this content.