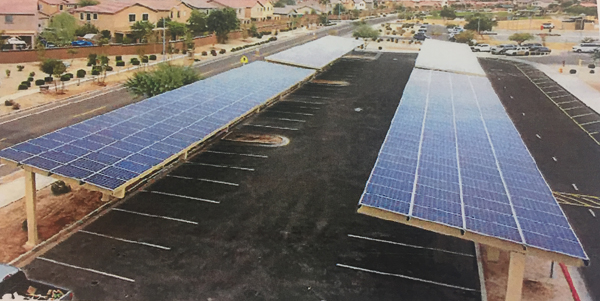 Anthem Inc. wants to rip up a wide grassy area on its downtown campus on Virginia Avenue and build 60 private parking spaces for executives.
The Indianapolis-based insurer is asking the city for a zoning variance for the project. Under city law, new surface parking lots have been banned from the Mile Square for about the past decade.
Anthem's project, if approved, would eliminate a large swath of green space along a popular corridor for walking and biking. The site is just steps from the Indianapolis Cultural Trail and a few blocks from the Fletcher Place cultural district, filled with restaurants, apartments and storefront retail.
The request comes as Anthem is preparing to move its corporate headquarters from 120 Monument Circle when its lease expires at the end of this year. The company plans to fold its corporate staff into its Indiana Blue Cross Blue Shield campus at 220 Virginia Ave., about a four blocks southeast of the current headquarters.
Anthem officials did not respond to IBJ to answer questions about the project's cost and timetable, or whether other sites were considered.
Keith Holdsworth, administrator for the Indianapolis Department of Metropolitan Development, said the petition is under review by city planners, who will make a recommendation to the Board of Zoning Appeals. The board will consider the request at its June 19 meeting, he said.
Anthem's petition calls for installing perimeter fencing with gates around the parking lot and covering the parking spaces with solar panels. A new sidewalk would be provided along the north side of the parking lot to connect to the existing Anthem parking lot.
Rumors that the company might eventually move its headquarters out of town intensified this spring when the company broke ground on a soaring, 21-story office tower in Atlanta called the Anthem Technology Center. The $150 million project, announced last year, will include outdoor terraces, a fitness center, tech bar, hangout spaces on every floor, and nearly 8,000 square feet of retail. That building will house much of Anthem's technology operations.
Anthem said last month it will keep its longtime corporate home in Indianapolis and invest $20 million on renovations to accommodate the corporate staff. Once the renovations are complete in the fourth quarter, its headquarters will house more than 2,600 employees, in addition to more than 2,300 employees who work in other locations around the state or at home.
Please enable JavaScript to view this content.