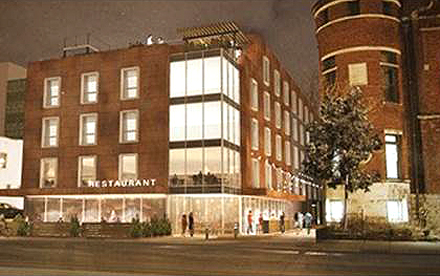 The Indiana Court of Appeals has ruled in favor of a local developer who is planning to build a $15 million apartment and retail project next to downtown's historic Athenaeum building.
In the decision, issued on Friday and written by Judge Margret G. Robb, the three-judge panel affirmed a Marion Superior Court's ruling for Dan Jacobs and the Indianapolis Historic Preservation Commission.
The appeal stems from a group of neighbors near the Athenaeum who in January 2017 filed for a review of the IHPC's approval of the project.
Jacobs is partnering with the Athenaeum Foundation to build the project, known as Block 20.
The development is slated for a lot immediately east of the Athenaeum and fronting Michigan Street. The project would include 67 apartments, about 10,000 square feet of retail and a 229-space parking garage.
Neighbors argued that the project violated a restrictive covenant on the property for only "residential" construction and that the IHPC was obligated to enforce the covenant. They also cited the Historic Area Preservation Plan governing Lockerbie Square and dividing it into two sections: the historic core and the secondary area.  
Marion Superior Court Judge Michael Keele in July ruled in favor of Jacobs, and the neighbors appealed the following month.
In the appellate decision, Judge Robb said the fact that the proposed project includes both residential and commercial uses does not undermine historic preservation in the area.
"The Restrictive Covenant does not mandate that the property be used for solely residential purposes," she wrote. "In fact, the Restrictive Covenant only references pursuing residential use."
And she said that the emphasis has shifted to new development of existing vacant land in both the historic core and the secondary area.
"The historic preservation statutes and the historic plan do not exist to prevent change, but to encourage and appropriately guide revitalization," Robb wrote.
Jacobs declined to comment on the appellate court's decision.
Please enable JavaScript to view this content.