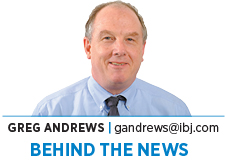 A lawsuit filed late last month by ITT Educational Services Inc.'s bankruptcy trustee places blame for the company's calamitous collapse squarely on the shoulders of former CEO Kevin Modany and the company's overly compliant board, blasting it for "chronically failing to exercise reasonable oversight" over him.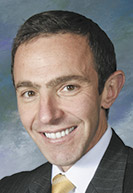 Modany
Sharp words, indeed. But legal observers say Trustee Deborah Caruso's quest to turn her 29-page complaint into a giant settlement or judgment will be fraught with challenges—in no small part because of Indiana's 1980s-era anti-takeover law, which gives board members unusually broad authority to exercise judgment as they see fit.
As former Indiana Supreme Court Justice Ted Boehm explained in a 2012 deposition in an unrelated case, back then "there was considerable concern that the phenomenon of hostile business takeovers that was prevalent was resulting in a severe depletion of locally based businesses in our state."
The concern was so great, he said, that lawmakers wanted "to make Indiana as hospitable as it could to boards of directors' governance of the company, and to make it as easy as possible for the board to accomplish what it determined to be in the best interests of the corporation."
Under Indiana's statute, directors are protected from personal liability unless they engage in willful or reckless misconduct, "which is a pretty high bar," said Jim Strain, a partner emeritus at Taft Stettinius & Hollister LLP in Indianapolis who helped write Indiana's law.
"In the national landscape, it is either the highest or one of the highest" hurdles for a plaintiff to clear, Strain said.
Trustee Caruso, an attorney with Rubin & Levin in Indianapolis, and one of her attorneys, Jeff Marwil, a partner with Proskauer Rose LLP in Chicago, did not respond to requests for comment.
Caruso's suit—which seeks $250 million—zeroes in on ITT's final months. It notes that, as of March 2016, the company had $108 million in cash on its books, and the firm said in public filings that its assets exceeded liabilities by $162 million.
Just five months later, ITT was out of business and liquidating in bankruptcy court. The company fired its 8,000 employees and shuttered its 130 campuses, leaving its 40,000 active students reeling.
The suit uses email exchanges and other correspondence to cast Modany as the villain. Caruso alleges he acted brazenly in his own interests—rejecting overtures from suitors, for example, that wouldn't have kept him aboard.
"Modany selfishly focused on securing a strategic transaction that would trigger his severance payment and provide him continued employment or some other face-saving exit," the lawsuit alleges.
Meanwhile, the board, which included veteran Indianapolis health care executive Sam Odle, allowed Modany to stay in the job. It failed to act even though he was facing a thicket of lawsuits accusing him of fraud, and even though its accrediting agency, federal agencies and state attorneys general all had wanted him terminated.
Though Modany was conflicted—what was best for him personally wasn't necessarily the same as what was best for the company or its students—directors "were unengaged" and deferential to the CEO, according to the lawsuit.
For example, in April 2016, Odle asked board Chairman John Dean to set up a conference call with Modany to discuss options to sell the business. "Dean later replied to Odle that Modany 'declined the request,' to which Odle responded, 'John, you are his boss. How does he decline your request?'"
As the crisis escalated, Dean remained pliant, writing to Modany: "Before you get unhappy with anything in this email, note again the first sentence. I defer to you."
The lawsuit adds: "While such personal fidelity may be admirable in some circumstances, the directors' repeated and unquestioned abdication to Modany amounts to serious breaches of their fiduciary duty."
Modany and Odle did not respond to phone calls or emails seeking comment.
Legal observers say the dysfunction described in the suit, while far from flattering, provides no assurance that Caruso will have the upper hand in the case.
They note that, partly because of Indiana's extensive director protections, judges in Indiana over recent decades have dismissed dozens of breach-of-fiduciary-duty lawsuits against directors.
To understand why the Legislature took such an extreme stance, it's helpful to travel back to December 1985, when Canada's Belzberg family was threatening an assault on Arvin Industries Inc., then a powerful Columbus-based auto-parts maker.
In response, Arvin CEO James K. Baker called his old friend, Robert Garton, president pro tem of the Indiana Senate, for help.
The Wall Street Journal later recounted that, within weeks, Garton had steered through a tough anti-takeover measure, drafted by Arvin's own lawyers—one of whom was Strain.•
Please enable JavaScript to view this content.