Local entrepreneur Kristian Andersen can still hear his father's words ringing in his ears.

"He told me that I could go to work for somebody else or build a company that was bigger than myself," Andersen said.

After trying the former with disastrous results—his first employer, an Anderson tech company, went out of business six months after he was hired—he decided to build his own company.
Andersen
In 1998, he launched Kristian Andersen Design, primarily focusing on website design and branding. "I was a glorified freelancer," he said.

Another piece of wisdom from his father—"always say 'yes' when clients ask if you can do something for them"—led the company, now known as Studio Science, to diversify.

"The market defined what we would become," Andersen said.

That path led Studio Science to earn a sizable customer base with tech companies big and small. This month, Studio Science hired a new leader with an eye on greatly expanding its customer base nationally—even beyond the tech sector.

The firm's first service diversification was helping design software delivered through a web browser, Andersen said. Working with software as a service—or SaaS—companies is still a hallmark of the firm.

Over the years, the company has expanded to include research and design and development of various digital and mobile products, prototypes and business strategies.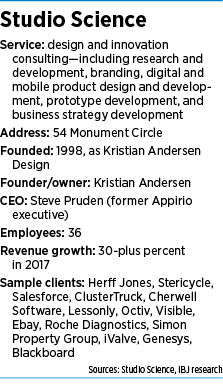 Studio Science works on everything from coming up with a company's name to developing and packaging apps and software and helping define target markets and even a client's work culture.

While Studio Science is most often thought of as a creative and design firm, its work for clients starts with research, said Phil Miller, vice president of Blackboard, a Washington, D.C.-based educational technology firm.

"When they did work for us, they sent their people to a users' conference and interviewed more than 40 of our clients," Miller said. "That type of research is the bedrock of all they do, and it's what sets them apart."

Miller said he's worked with Studio Science for more than eight years "and they've always gone above and beyond what you would expect."

Through the years, the local company, which has 36 employees at its headquarters on Monument Circle, has amassed a national footprint with clients and projects—mostly in the tech sector—in Seattle, San Francisco, Boston, Denver, Chicago and New York.

Studio Science's clients include industry giants such as Ebay, Genesys, Salesforce and Cherwell Software.

But the company's biggest impact is in Indianapolis, where it works with not only big brands like ClusterTruck and Angie's List, but also myriad startups such as Lessonly, Octiv and Visible.

"Our fingerprints are all over the Indy tech community," said Chris Belli, Studio Science vice president of marketing and business development. "No other central Indiana company has worked with the launch and scale-up of so many tech companies."

Studio Science also is instrumental in another of Andersen's enterprises, High Alpha—a combo venture-capital and incubator operation he started with startup mavens Mike Fitzgerald, Eric Tobias and former ExactTarget CEO Scott Dorsey. Studio Science has four designers and an administrator embedded at High Alpha.

Studio Science—for a number of years—has been experiencing 30 percent year-over-year growth, and in 2017, exceeded that, Belli said. He and Andersen declined to divulge the firm's revenue.

That doesn't mean there haven't been bumps in the road. When the dot-com bubble burst in the early 2000s, Andersen said, the company lost half its clients. But by offering a unique set of services, he said, it was able to develop "big, durable relationships" with enough clients to sustain itself.

"We're not primarily a marketing or ad agency," Andersen said. "We were built from day one to be a design and innovation consulting company. In 2003, we were pretty much the only game in town. We were able to build a strong niche."

Now, he said, the company is "entering its third epoch."

Studio Science is taking on large clients—such as Simon Property Group, Roche Diagnostics, Herff-Jones and Stericycle—that are not strictly technology companies.

"In this day and age, every company is a tech company or is becoming a tech company," Belli said. "We are helping market leaders that are going through a digital transformation."

To help steer the company into new territory and accelerate growth, Studio Science this month named former longtime Appirio executive Steve Pruden as its new president.

"Steve is a remarkable get for Studio Science," Andersen said. "He helped oversee remarkable growth at Appirio, and we think he can do the same at Studio Science. And just as important, having been raised in Indianapolis, we have a shared passion for this city."

Pruden replaces Nathan Sinsabaugh, who departed Studio Science last August after 13 years, to take a position as director of marketing and communications with The Oaks Academy.

Pruden, a 2000 Indiana University graduate, said Studio Science will be much more aggressive in marketing itself going forward. The plan is still being developed, but Pruden said it will be built on the successes of its clients and emphasize the use of earned and social media.

"Studio Science has been a bit of a hidden gem," he said. "But the brand hasn't been pushed broadly. We're going to change that."

Numerous established companies desire the services Studio Science offers startups and tech firms, Pruden said. "We're going to bring the innovation, agility and speed a startup demands to established companies."

While Pruden said "Indianapolis will remain home" for Studio Science, he added, "we definitely want to grow our footprint nationally."

Pruden has experience with fast-growing firms. When he joined Appirio as delivery manager in 2010, the company had roughly 75 employees. When he departed earlier this year—after serving in a variety of roles—the company had 2,600 employees.

Pruden certainly brings swagger to Studio Science's stable. "There's significant growth in Studio Science's future," he said. "We have the team and history to compete on a very large stage."•