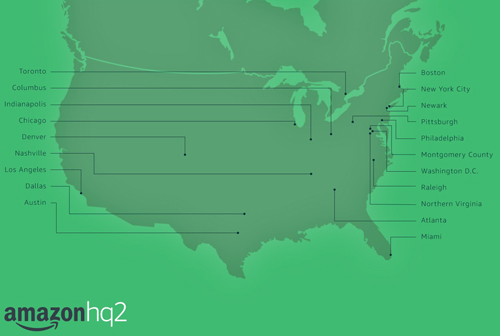 Central Indiana made the short list for Amazon's $5 billion secondary headquarters project (aka HQ2), but most other information about the area's bid has been kept quiet in the ultra-secretive application and evaluation process for the internet giant.
Amazon has some very specific criteria for the future host of its project, which could create as many as 50,000 jobs over 15 years and spawn thousands more from businesses trying to serve or simply be close to Amazon.
To help shed light on what could be the most important event in Indianapolis' history since the development of the interstate system, IBJ's reporters for technology. real estate and economic development have joined forces for a frank and freewheeling roundtable discussion about what Amazon wants and whether the Indy area measures up. They also tackle the question, "Would Indianapolis have been a serious contender for HQ2 five years ago?"
Click the "play" button above to get their takes. You also can find the IBJ Podcast via iTunes and Google Play. IBJ will have a new podcast every Monday morning.
Please enable JavaScript to view this content.