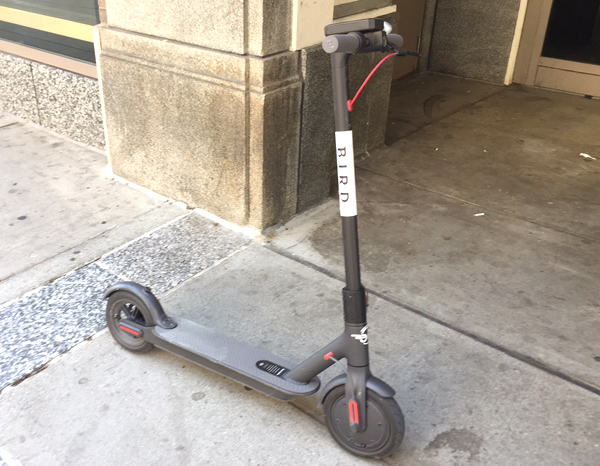 Electric scooter company Bird launched last Friday in Indianapolis, dropping its dockless scooters of the same name in "nests" downtown, in Irvington and along Massachusetts Avenue—but they're already running into trouble with the city.
The city's Department of Business and Neighborhood Services, formerly code enforcement, sent the company a letter asking it to halt the service for 30 days while the city works out a regulatory scheme that would tackle dockless bike and scooter sharing.
Council Vice President Zach Adamson said he anticipates a proposal will come before the next public works council committee meeting that would "regulate them rather than prohibit them."
Adamson said the city has been approached by several dockless bike companies about starting in Indianapolis and was caught off guard when the Bird scooter service launched.
"Friday night, out of nowhere, all these birds just materialized," Adamson said. "We've been scrambling to deal with them. It's not our intention to see either a prohibition on either the scooters or the bikes, but rather to regulate them so they are held accountable and maintaining the integrity of the public thoroughfare."
Adamson said it's clear the Bird scooters are being used, but he has received some complaints and wants any dockless transportation option "operating in some definable parameters to keep them under check so we don't have a free-for-all."
If the Bird scooters are strewn about the sidewalk, "there can be a hazard to the visually impaired, or they can be falling into parked cars or damaging people's property, or leaving them in tight walkways," he said.
Adamson said he is not opposed to the scooters or a dockless bike sharing system.
"We'd like this to be a positive experience …, which I think will be successful if done right, and for the public to have another opportunity for getting around the city, which the city needs," Adamson said.
A spokesman from Bird did not immediately respond to IBJ's request for comment about the situation, but the company sent a memo to IBJ Friday that said the company was "dedicated to bringing low-cost, environmentally friendly transportation solutions to communities across the world."
The Bird scooters are unlocked and activated using a person's smartphone and an app.
They are aimed at people who want to take a "short journey across town or for the last mile or blocks from a bus station to their destination. They can replace cars for the 30 percent of car rides that are less than two miles long," according to Bird.
The scooters cost $1 per ride, plus 15 cents per minute. They go about 15 miles an hour at full speed, and a charge lasts about 15 miles.
The company has launched the service in more than a dozen other cities.
Please enable JavaScript to view this content.