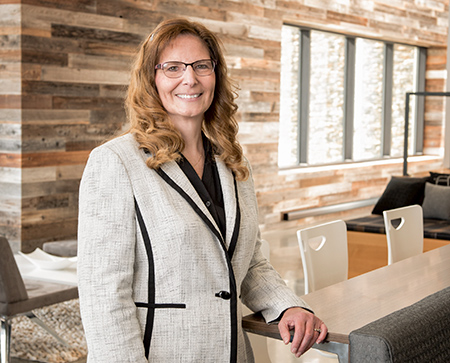 Michelle Schroeder
Kimball International chief financial officer
As open-concept workspaces continue to be the rage, Kimball International—which manufactures and sells office, learning, health care and hospitality furniture—is trying to meet the demand.
Michelle Schroeder, 53, is the company's chief financial officer. Her favorite part of the open-office trend is that collaborative spaces now seem "more homey, more residential." But she said the switch can definitely create tension.
Kimball, which had $670 million in revenue in 2017, is based in Jasper and has 3,000 employees in Indiana, Kentucky, Virginia and California.
What are the office furniture trends?
The office environment has really been going through a significant shift in the last couple of years as the workplace environment is moving more toward the open, collaborative environment. In some companies, they aren't even assigning employees their own specific space now.
The furniture that's needed to furnish those spaces is changing. We have really been aggressive in introducing new products that fit well within the open, collaborative work environment. That's a big change and big opportunity that we've been able to take advantage of.
There's a big transformation going on around smart interiors, adding smart capabilities to buildings and then trying to design furniture that fits well into that. We have to figure out how to integrate technology into the furniture, figuring out what other services we can provide.
Open offices are trendy but somewhat controversial. What do you think?
We are making that transformation throughout our national office. Some people are very apprehensive about the change and having that open environment. … But once people get into the space, they really like it. The one thing that I like is just being able to work out of your office. We've got different spaces throughout the facility where you can get up and go work. If you're more comfortable working in a lounge area where you can sit back and relax, with being so mobile, you can do that.
Overall, how is business going at Kimball International?
We have been performing very well. We spun off an electronics segment back in October of 2014. At that time, the furniture side of the business, we were not doing well. We made a lot of decisions on things we could do to cut costs, but at the same time, we needed to still invest for growth. If you look at where we were in fiscal year 2014 compared to fiscal year 2017, our sales on average grew 6 [percent] or 7 percent per year over that time period, and our operating income increased a little over 8 percent last year.
How did you cut costs?
We had a facility in Idaho; we consolidated that facility. It's always difficult to shut down a facility, but that action saved us about $5 million a year. We looked at costs everywhere. We had a corporate airplane we sold.
How is the health of the furniture industry?
The forecasted growth, particularly in office furniture, is in the low single digits.
What are the opportunities?
We just completed a pretty small acquisition [in November]. D'Style is in the hospitality arena and we're looking to grow our hospitality segment of our business. They had some capabilities we did not have.
What are Kimball's challenges?
We're seeing costs rising with the steel and aluminum tariffs. We're seeing a big increase in our freight costs. There's a shortage of drivers and that continues to increase with all the mail ordering. It is very difficult to hire given the low unemployment rate here in Dubois County. Keeping up with the rapid change in artificial intelligence and technology and how that's going to affect and change the way we work.
How did you weather the hard times for a few years?
I think when you're going through massive change like that, communication is key, making sure that your employees understand where we're going. Another thing that's key is really having the right culture within the company. Culture starts at the top. It's understanding and realizing your people really are the company, so you need to treat them with dignity and respect.•
Please enable JavaScript to view this content.