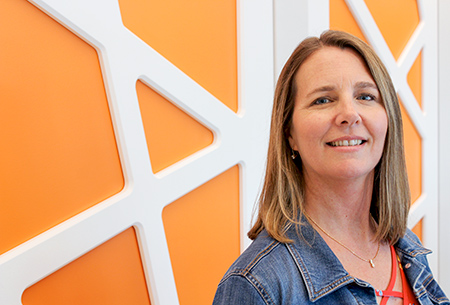 Tracy Kemp,
Allegion senior vice president and chief information officer
Tracy Kemp, 50, is senior vice president and chief information officer for Carmel-based Allegion, a security-products company that was formed in 2013 by Irish Industrial conglomerate Ingersoll Rand.
Kemp joined Ingersoll Rand in 2008. She had worked for Eli Lilly and Co. for 18 years and held information-technology leadership positions across enterprise infrastructure, human resources, toxicology and Lilly Research Laboratories.
Why did you go to work for Allegion?
I'd worked for a pharmaceutical company and been in health care for a while, and it has a really nice purpose and vision for improving people's lives. But you don't really get to touch a lot of the products. Coming to Ingersoll Rand and now Allegion, it's really neat to see our products. … [Allegion] has a tech focus, we're a tech company, and it has a good mission. It's about making the world safer, and those values are important to me.
How has the company evolved?
This is our fifth anniversary, so it's an exciting year for us. We've had really strong financial performance, we've demonstrated ourselves as a leader in safety, we're one of the safest companies in our industry and—a thing I'm really proud of—is, our CEO [David Petratis] was named a CEO that gets it. That's around safety from the National Safety Council. He really leads that from the top. It's one of our values. … We also launched Allegion Ventures this year. We've just really grown up and kind of grown into what we are today, and it's been a really neat story.
Tell me about Allegion Ventures.
It's about investing in companies that are kind of focused on the same things we are. When you think about door safety and access, how do we make that less intrusive and safer and stronger and faster? The more we can find those companies with a similar mission and accelerate their growth, it's a win for both.
How does tech impact your business?
We launched an innovation team about 3-1/2 years ago, and that team is experimenting with emerging technology. Things like virtual reality, augmented reality, artificial intelligence, machine learning and doing experiments, and then we're looking for opportunities for adoption within the business. One example of that … is using smart glasses. A technician in Mexico can work on a router, and someone remotely who is an expert on that router can see what they're seeing.
Why did you choose an IT career?
I grew up in Montana, and I was one of two daughters. My dad was a big outdoorsman. I ended up going to work with him the majority of the time. My dad was always problem-solving, figuring out how to make whatever we were working on go faster, you know, be more productive. … [I did] kind of nontypical female jobs. … I ran equipment for my dad at our sawmill and lumber yard when I was younger. We were in the gold-mining business. … Throughout that process, one of the things I just really liked to do was solve problems—and math and eventually computer science were those things that were of most interest.
What does Allegion's future look like?
I think the future of Allegion is bright. Things like Allegion Ventures, the investment that the company has had in acquisitions and other investments. We have had a focus and will continue to have a focus on tech and [internet of things] and figuring out more how we play in the digital industry. And engagement of our employees and development of our employees is important to us.•
Please enable JavaScript to view this content.