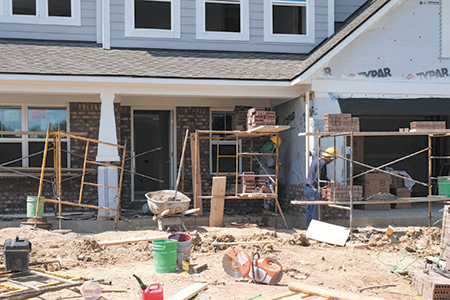 The kind of housing that caters to millennials and empty-nesters is finally on the upswing in Noblesville—although the growth in single-family homes is still increasing, too, city officials say.
Attached homes on small lots, in neighborhoods with trails and pathways, are becoming more popular in the Hamilton County community, as developers work to propose residential development projects that meet the city's goal of diversifying its housing stock.
Overall, residential development continues to explode—more than two dozen subdivisions are under construction or approved for construction in Noblesville. And many include a variety of housing options to meet the changing demands of prospective homebuyers.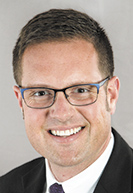 Jensen
It's an improvement from just a few years ago, said City Council President Chris Jensen.
For years, city officials received proposals for development after development with one of two basic characteristics: a large plot of land for a multifamily apartment complex or a subdivision filled with single-family, detached homes.
Town houses, condos and duplexes that were popping up in nearby Carmel and Fishers weren't being pitched in Noblesville, at least not often.
In 2016, the city commissioned a study to assess Noblesville's housing stock, fearing the Hamilton County seat was missing out on a large percentage of would-be home buyers because the homes they desire weren't being built in the city.

The study found single-family, detached homes and multifamily apartment complexes made up 94 percent of the available units.
The analysis identified a housing gap—which it called "the missing middle"—that included townhomes, condos, cottages and duplexes in more walkable areas with select amenities nearby.
At the time, city officials said it was imperative the housing gap be filled, or Noblesville would lose baby boomers looking for retirement homes and millennials searching for their first homes, the two age groups that make up the largest percentage of home buyers both locally and nationally.
Those age groups prefer smaller housing options with less maintenance and nearby amenities, the study found.
City leaders want to ensure there is adequate housing to allow residents to "age in place," Jensen said.
"It's important that folks who raise their family in Noblesville can retire in Noblesville … and call Noblesville their forever home," Jensen said.
So, officials started to be more vocal about what they were looking for when reviewing housing proposals. And the pressure appears to have worked. Nearly two years after city leaders revealed that study, developers are beginning to propose more attached-home options.
Newest options/p>
Currently, city officials are considering at least three residential projects that include a mix of housing options. One is solely a townhouse community accompanied by commercial development for retail.
Developer KennMar LLC has filed plans to develop land at the southeast corner of State Road 32 and Hazel Dell Road that includes 81 townhouses along the Midland Trace Trail and six commercial lots for retail.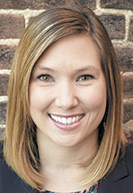 Reed
More such proposals are expected. As Fishers and Carmel begin to fill up, Noblesville and Westfield are being deluged with residential development proposals, Jensen said.
"The development pressure is just going to keep going north as we become the place to be," said Noblesville Planning Director Sarah Reed.
The city's planning office estimates more than 1,800 acres remain undeveloped across Noblesville. Most of the land is in zoning districts that allow for residential land use, Senior Planner Justin Schuessler told IBJ. And the city could also rezone some currently non-residential districts, he said.
To shape what that development will look like, the city council is weighing in on proposals earlier in the process, Jensen said.
Before pitches ever receive a public hearing at the Plan Commission, city council members get a look, giving them a chance to alert developers to changes they want to see much earlier in the process than before.
"We want to be honest and open with developers," Jensen said. "'This is what we're missing. This is what we need.'"
This month, for example, the city heard a proposal for a project by Lennar Homes called Midland Overlook.
The developer has asked the city to rezone 63 acres north of 171st Street and east of Mill Creek Road to allow 174 residential units. Thirty of the homes would be town houses along the Midland Trail, plus 144 single-family homes.
The original plans submitted in April included 152 single-family homes and no attached units. After receiving feedback from city leaders, the developer expanded the project and included town houses.
James Shinaver, a Nelson & Frankenberger LLC attorney representing the developer, told city council members Lennar appreciated the feedback. As a result, the two-story town homes are a new product for the company in Indiana, Shinaver said.
"Now with this mixed product type, you have a community that is targeting millennials … and you're targeting empty-nesters," he said during the June 12 meeting. "That's interesting and unique and should provide some vibrancy to the community."
Reed said most developers have been receptive to the city's feedback.
"As long as they know what we're looking for, it's easy for them to incorporate it," she said.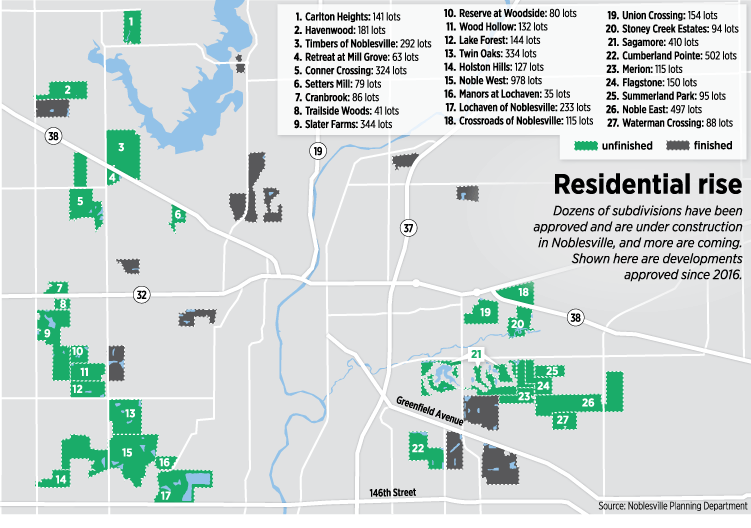 'A ways to go'
Another proposal Lennar is involved in includes villas and single-family homes that vary in style and price point, targeting empty-nesters, families and millennials.
Gradison Land Development Inc. has worked with the city to file plans for Brooks Farms, a 314-unit neighborhood on 124 acres at the northwest corner of 156th Street and Summer Road.
Lennar would build 23 paired, single-story villas and 128 single-family homes, while builder Pulte Homes would construct another 140 single-family homes.
Representative Steve Hardin, an attorney for Faegre Baker Daniels, said Gradison Land Development representatives read through the city's housing analysis before proposing the project.
The developer and builders want to meet the market's needs while also meeting the city's goals, he told council members. The project, which features a mix of housing types and builders, accomplishes both, he said.
Still, city council members said they'd prefer to see even more villas than what's being proposed.
And overall, while a number of housing projects that have been submitted since 2016 have included attached homes, city leaders want to see more, Jensen said.
From 2015 to 2017, the city issued 1,383 building permits for single-family, detached homes.
During the same period, just 212 building permits were issued for attached homes.
"I think we're starting to move the needle in the right direction," Jensen said. "But we still have a ways to go."
Some of that work involves educating the public about the benefits of high-density housing projects, Reed said.
In central Indiana, high density isn't always viewed positively, she said. But it offers benefits to both buyers and developers as well as cities and towns, she said.
"The more density we can get in a project, the better the return for the developer," she said. "And they can also sell some of those units at different price points, which is beneficial to buyers."
The housing analysis isn't sitting on a shelf, collecting dust, Reed said. The city will continue to analyze its housing stock and make changes to the zoning process as necessary.
The city is currently updating its comprehensive plan to reflect its long-term goals and provide more specific language about what will be allowed in the various zoning districts, to make the most of the undeveloped land that remains, she said.•
Please enable JavaScript to view this content.