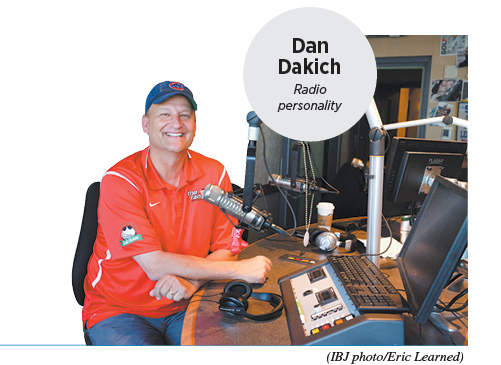 Unless you live in a cave or have zero interest in sports, you likely know about Dan Dakich. But locals might know less about his fight to stop tobacco use and the nightmare that set his crusade into motion.
For the last decade, Dakich—a former basketball player and coach—has made a living hosting a local sports radio show on WFNI-AM 1070 and as a college basketball analyst, first on the Big Ten Network and most recently for ESPN.
His followers could be forgiven for not knowing Dakich has been a heavy smokeless-tobacco user since his days playing at IU in the early to mid-1980s. For years, he tried hard to hide his habit.
Dakich, 55, continued chewing and spitting his way through his 30s and most of his 40s, before a recurring nightmare about his daughter's wedding and his own death set him on an anti-tobacco campaign that now includes on-air and print ads.
When did you start your anti-tobacco campaign?
Six or seven years ago on my own. I joined Quit Now Indiana about three years ago.
Why did you decide to go public with this?
Indiana has a big tobacco problem, and I really want to help with that. It's not just chewing tobacco, but smoking obviously, too, and I've gotten a ton of feedback from smokers as well as people using chewing tobacco. I just started sharing my story. For a long time, I was embarrassed by my [chewing tobacco habit]. I never wanted to be seen as doing something wrong. I tried to hide it from my kids. I used to chew on the air and hide behind the microphone. I decided it was time to put a stop to all this, and the response has been amazing. What feedback have you gotten? It was surprising as hell. I got more feedback than I could ever imagine. Now it's become a mission for me. I had about 10 guys in a two-day period this May at the Indianapolis Motor Speedway come up and tell me I helped them out. I have men thanking me for helping them kick the habit, and I have women thanking me for helping their sons, boyfriends and husbands stop.
What have you told your children?
Not only have I told them not to do it, I've threatened them with bodily harm if they did. This habit is crazy. It's bad for your health. I lost a tooth over it. And I'm lucky that's all it's been.
When and why did you start using tobacco?
High school baseball when I was 16 years old, maybe 17. We saw big leaguers do it and we thought it was cool. When I got in college, a lot of the guys on the Indiana basketball team did it. When I was coaching, I did it all day except when I was coaching. It was a big-time stress reliever.
When and why did you quit?
I had a dream. … When I was coaching at Bowling Green, one of my last years … we were at Virginia Tech. I stayed at a different hotel from my wife and kids so I could watch film and chew tobacco. I had a dream that night that I was floating over my daughter's wedding and my daughter was crying, saying, "Why did Dad have to chew tobacco and die?" So I quit, but I started again the next season. At Indiana, when I was coaching, I came in, saw the sign that said no tobacco, put a dip in at 8 a.m. and chewed all day. In 2011, after a long day broadcasting … I had the exact same dream. The exact same dream! I woke up in a sweat. I figured that was a sign and I never did it again.•
Please enable JavaScript to view this content.