The Carmel Performing Arts Foundation has appointed its first independent board members, Rollin Dick and Rosemary Waters.
Dick, appointed president of the board, is a venture capitalist who lives
in Zionsville. He's also an Indianapolis Symphony Orchestra board member and has volunteered with
the Indianapolis Civic Theatre and Indiana Repertory Theatre.
Waters,
who lives in Carmel, works as the business manager for Paxton Waters Architecture and is president of the
Carmel International Arts Festival. She is also on the executive board of the Carmel Arts Council.
Dick and Waters will join two city of Carmel employees, Nancy Heck and Doug
Haney, on the board, which could grow to 25 members. Mayor James Brainard has stepped
down.
The foundation was set up to operate the new Regional Performing
Arts Center, which is under construction and expected to be finished in late 2010.
Dick said the board will announce new members as
they're appointed. The board recently hired Executive Director Steven Libman. One of its primary
tasks will be raising money for a $3 million operating budget.
Dick said he feels confident about fund-raising prospects. "I obviously think the outlook is pretty
good, or I wouldn't have joined."
• Two local artists will receive free studio space in the Stutz Building
for the next year.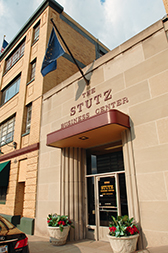 The Stutz building houses artist studios. (IBJ Photo/Robin Jerstad)
The Stutz Artists
Association has named Lydia Burris and Patrick Flaherty, both 29, as the 2009-2010
residents. They'll occupy their studios in October. Each space is valued at $6,000.
"The cool thing about it is, it's in the community of the Stutz,"
said Burris, who currently works out of her home near Broad Ripple.
The residency program began in 1996 and has provided $102,000 in studio space to 17 local artists. It's
funded by proceeds from the artist association's annual open house. The next Stutz Studio Open
House will be April 23-24, 2010.
Please enable JavaScript to view this content.