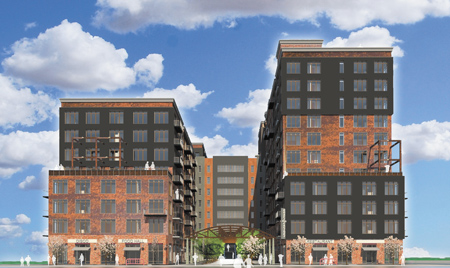 Leaders of what's known as Stadium Village on downtown's southern edge have been waiting patiently for the area to pop, and now there's finally enough activity to justify their hopes.
No one's about to mistake the area for trendy neighborhoods such as Mass Ave or Fountain Square. But several projects are under construction or in the works, including plans for a $72 million, 304-unit apartment and retail project at 915 S. Meridian St.
Stadium Village has "been a hidden gem for quite some time," said Jeff Bennett, deputy mayor of community development.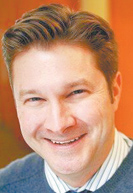 Bennett
"There's a really active neighborhood and business coalition that has come to some consensus about what they would like to see in the future of the neighborhood," he said. "Through strong neighborhood leadership, they have developed a really interesting plan."
The Stadium Village Business Association has hitched its wagon to Lucas Oil Stadium, the area's biggest draw, in hopes of attracting more housing, retail and hotels.
For decades, Shapiro's Delicatessen on the southwest corner of South Meridian and West McCarty streets has been one of the neighborhood's few destination spots. But neighborhood leaders are determined to change that.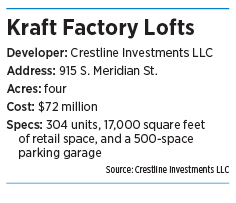 "I think that whole south side [of downtown] is getting ready to explode," said Steve Alexander, a past president of the neighborhood association and owner of Prince/Alexander Architects Inc., which has offices at 21 Merrill St., just two blocks from Lucas Oil.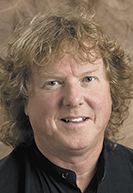 Alexander
Development on downtown's south side is encumbered by a smattering of industrial sites and ramshackle homes with little or no historical value. The presence of corporate heavyweights Eli Lilly and Co. and Rolls-Royce Corp., though, might spur more activity.
Two blocks east of the stadium, between Russell Avenue and South Meridian Street—just north of where the streets come to a point—Illinois-based Hillcrest Development Inc. has broken ground on a five-story, $17 million TownePlace Suites by Marriott. The extended-stay hotel will boast 140 rooms.
And just 150 feet north of that site, Alexander is involved in a partnership that plans to demolish the old two-story residence he converted to his firm's office, to make way for another hotel.
The partnership has acquired a Tru by Hilton franchise and should file plans soon with the city's Regional Center Hearing Examiner, Alexander said. Hilton launched the Tru flag in early 2016 to compete against mid-market brands such as Comfort Inn and La Quinta.
Already making its way through the Regional Center is the proposal to build the 304 apartments along South Meridian Street—what would be the area's first major multifamily project.
Locally based Crestline Investments LLC has nearly four acres under contract on South Meridian across from the Greek Islands restaurant and just north of Interstate 70.
Crestline is calling the project Kraft Factory Lofts, in reference to the Kraft South Side Baking Co. that once occupied the one-story building that will be torn down. In its place, Crestline plans to build three apartment buildings (two standing 11 stories and another eight stories) and a 500-space parking garage. Two of the apartment buildings will front Meridian Street and will feature 17,000 square feet of retail space.
"We're really invested in the project, and we're really excited about the impact it can make on the south side," said Allie Rosenbarger, Crestline's development manager.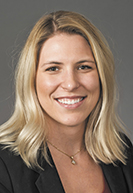 Rosenbarger
Crestline was founded in 2001 by James Wilson and is beginning to branch out from its affordable-housing roots into market-rate projects. The company has affordable developments in Greenwood and Noblesville and is working on one in Fishers. Kraft Factory Lofts would be its first project in Indianapolis.
Rosenbarger described the design as industrial chic and said it will blend well with the neighborhood and the stadium.
Crestline, though, is tackling a site that another developer couldn't make work to accommodate its plans.
A joint venture involving local developer TWG Development LLC had planned to build 120 apartments on the site as part of a mixed-use development anchored by a restaurant.
TWG ultimately determined the rental rate the area could command wouldn't support the $19 million investment and turned to Plan B—a music venue to be called The Grand Station, about the size of The Vogue in Broad Ripple.
The would-be operator, however, backed out, leaving TWG empty-handed.
"We just couldn't get the numbers to work," said Dennis Dye, a TWG principal. "It's kind of a crapshoot, what kinds of rents you can get in those neighborhoods. It was a little early."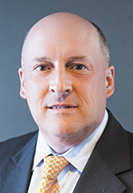 Dye
To the west, and south of I-70, Winamac-based Good Oil Co. has torn down the former Emrich Furniture building at West Morris and South West streets to build a Marathon-branded gasoline/convenience store with space for two more retail tenants.
The second phase of the project would consist of a hotel on the north side of the property along I-70, said Don Good, president of the company.
In addition, Good Oil has purchased what was the Lenny's Gentlemen's Club, also on West Morris Street, with plans to renovate the building to house ground-floor retail, along the lines of a bakery or coffee shop, and possibly apartments above, Good said.
Alexander of the Prince/Alexander architectural firm is glad to see the strip club gone.
"It's been a real eyesore in the neighborhood and the target of crime," he said. "Those kinds of facilities don't attract the best clientele."
To be sure, an early-morning altercation at the club in March ended in a man shot dead in a nearby parking lot.
And to the north, the Bullseye Event Group in Broad Ripple has purchased a one-story building on South Capitol Avenue, near the intersection of West McCarty Street, and in the shadow of Lucas Oil Stadium. Plans call for an event center, according to city filings. It would join existing event centers in the area such as Industry on Kentucky Avenue, Biltwell Event Center on South White River Parkway, and The Crane Bay on West Merrill Street.•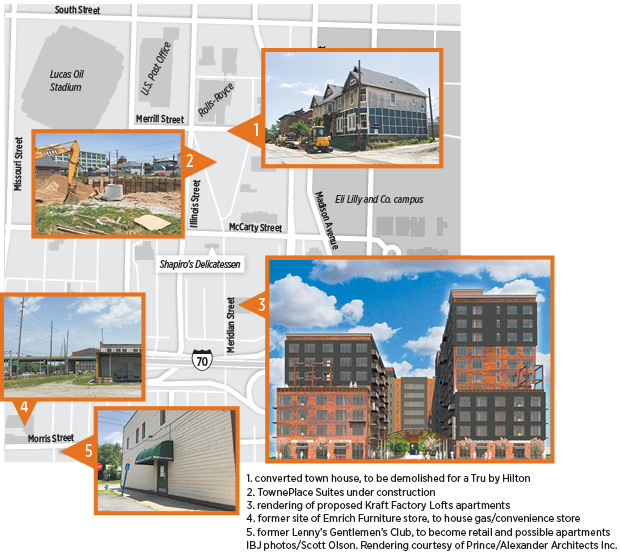 Please enable JavaScript to view this content.