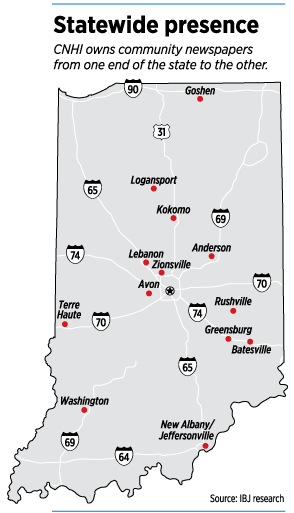 Community Newspaper Holdings Inc., the owner of several community newspapers in central Indiana, will be sold as part of a $3.65 billion merger deal involving its parent company.
Raycom Media Inc. on Monday said it would sell off its CNHI unit—which owns 13 newspapers in Indiana—after being acquired by Gray Television Inc.
CNHI owns 100 community newspapers or publications in 22 states, including The Herald Bulletin of Anderson, Zionsville Times Sentinel, Hendricks County Flyer and The Lebanon Reporter.
Its other Indiana newspaper holdings include the Kokomo Tribune, The Tribune Star of Terre Haute, Rushville Republican, Greensburg Daily News, Batesville Herald-Tribune, The Pharos-Tribune of Logansport, Goshen News, Washington Times Herald, and The News and Tribune of Clark and Floyd counties.
CNHI has retained a newspaper brokerage firm to explore selling the company, according to a statement posted Monday on CNHI's website.
The 20-year-old newspaper group became a subsidiary of Raycom in September after the two companies merged.
"We are looking for a transaction or transactions that will carry on CNHI's rich tradition of public service through award-winning journalism," CNHI president and CEO Donna Barrett said in the statement.
The merger between Montgomery, Alabama-based Raycom and Atlanta-based Gray would create the third-largest television broadcast group in the United States.
The combined operation would have more than 140 television stations serving 92 markets, the companies said in a statement.
Raycom's only TV station in Indiana is WFIE-TV Channel 14 in Evansville. Gray owns WNDU-TV Channel 16 in South Bend.
"Combining our company with the excellent Raycom stations and the superb Raycom employees will create a powerhouse local media operation," Hilton Howell Jr., Gray's chairman, president and CEO, said in written comments.
Pat LaPlatney, Raycom Media's President and CEO, said, "We are thrilled to be joining Gray Television as we share the same core values of journalistic excellence and community service."
Gray is a publicly traded company on the New York Stock Exchange. Raycom and CNHI are financed by the Retirement Systems of Alabama, which manages state employee pension funds.
Gray is acquiring stations in markets as small as Ottumwa, Iowa, and as big as Cleveland, where it will own the CBS affiliate that airs NFL games, the NCAA March Madness tournament and The Masters golf tournament. Live sports remains valuable for advertisers as entertainment programming sees a steady loss of viewers.
On a call with analysts, Gray executives said they expect to get regulatory approval in the fourth quarter and would divest some stations in overlapping markets.
Even with Raycom, Gray will cover only 24 percent of the country, so it still has room to grow under government rules that limit station owners to 39 percent of the national market, according to Paul Sweeney, an analyst at Bloomberg Intelligence.
A larger footprint could also help Gray negotiate better terms with station owners like NBC and pay-TV providers. Local broadcasters pay national station owners for the rights to carry their signals to local viewers, while collecting fees from pay-TV distributors. Broadcasters are trying to rely more on monthly subscriber fees, which are seen as more reliable than advertising. But revenue from subscriber fees are no longer a sure thing, as they're being squeezed by the rise of TV cord-cutting.
Local TV station owners rely on a windfall from political advertising. But the landscape is shifting. Spending on political ads during the 2016 U.S. presidential election fell sharply from 2012, partly because Trump's campaign relied instead on getting his message across in a steady stream of media interviews and tweets. That hurt local broadcast station owners, but they're hoping the midterm elections this fall will return to advertising growth.
Wells Fargo has underwritten the debt financing portion of the Gray transaction in the amount of $2.53 billion.
Please enable JavaScript to view this content.