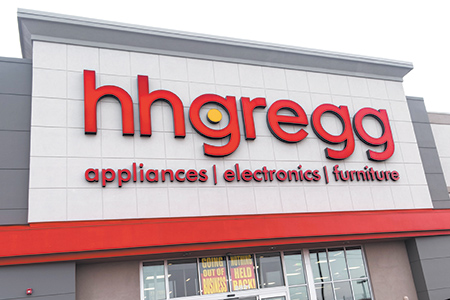 HHGregg Inc. has been out of the spotlight since the spring of 2017, when the once-mighty appliance and consumer electronics retailer shut down after 62 years in business.
But in bankruptcy court, legal tussles continue, as the company seeks to scrape together as large a recovery as possible for its battered creditors. HHGregg and creditors are pursuing more than 150 lawsuits, most of them aimed at recovering payments to businesses in the weeks before it sought bankruptcy protection.
But those spats are over chicken feed compared with the legal assault a Delaware law firm is preparing against HHGregg's officers and directors in hopes of finding them culpable for the company's rapid unraveling last year.
An Indianapolis bankruptcy judge early this year approved the unsecured creditors' hiring of Chipman Brown Cicero & Cole LLP to pursue claims against officers and directors on a contingency-fee basis. The payment scale listed in court records shows Chipman Brown is thinking big: It would get 20 percent of any recovery up to $10 million, 30 percent of any recovery between $10 million and $20 million, and 35 percent of any recovery topping $20 million.
Such suits have become commonplace in bankruptcy cases, with creditors of otherwise cash-starved businesses hoping to hit the jackpot by tapping companies' directors' and officers' liability insurance coverage. Court records don't reveal the amount of HHGregg's D&O coverage, but an attorney for unsecured creditors—Cathy Hershcopf of Cooley LLP in New York—said it runs into the tens of millions of dollars.
"Cooley did an initial investigation, and a decision was made to hire this firm on a continency basis," Hershcopf said. "They have done some work and drafted a complaint. That is really as much as I can say."
Court records don't reveal the specific claims Chipman Brown is making, though such suits typically include allegations of breach of fiduciary duty. Court records speak only in general terms, saying Chipman Brown will investigate and assert claims related to the management of the company before it filed for Chapter 11 bankruptcy on March 6, 2017.
HHGregg had announced four days before the bankruptcy filing that it planned to close 88 of its 220 stores. It cast the bankruptcy as an opportunity to get off the hook for rent on those stores, which then would set the stage for it to sell itself. But no deal got beyond the letter-of-intent stage, and CEO Bob Riesbeck announced April 7 that the business would wind down and dismiss the last of its more than 5,000 employees.
One reason the failure seemed sudden was that the company for years had been awash in cash. As recently as September 2015, it had cash on hand of $35 million and no debt. By the time it sought bankruptcy, it had borrowed $56 million and owed unsecured creditors $145 million. Causing the turnabout were key vendors that got nervous and cut off trade credit.
HHGregg's officers and directors are represented by Jim Moloy, a partner at Bose McKinney & Evans LLP. He confirmed that the filing of a suit appeared imminent but otherwise declined to comment.
Court records don't specify which officers and directors would be targeted. Among the directors with local ties were race team owner Michael Andretti, Langham Logistics CEO Catherine Langham and former Lids Sports Group CEO Ken Kocher.
Riesbeck, who took the helm of HHGregg in 2016, said company leadership did everything it could to save the business during an unprecedented stretch of carnage for retailers nationally.
He said both Synchrony Financial, which ran HHGregg's credit card program, and secured lender Great American Capital Partners imposed burdensome new terms that left HHGregg with nowhere to turn.
"No one was throwing in the towel until Synchrony did what they did, and the secured lender did what they did," he said.
"We didn't have a shot."•
Please enable JavaScript to view this content.