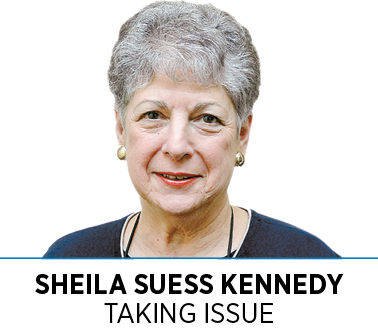 Loss of the ability to communicate might rank as the most consequential casualty of these toxic times. Rather than conversing and making an effort to persuade—behaviors requiring that we actually listen and occupy a common, evidence-based reality—Americans just reject people who don't share their beliefs.
This phenomenon isn't really new, although it is more widespread. I vividly remember when the publisher of my first book scheduled me onto a radio call-in show; the hot-button issue at the time involved posting the Ten Commandments on government buildings. A caller unhappy with court rulings on the subject argued that "James Madison said the Bill of Rights was for a nation that lives by the Ten Commandments."
When I responded that numerous Madison scholars had confirmed the quote, which had been making right-wing rounds, was bogus, the caller yelled, "Well, I choose to believe it!" and hung up. That was in the mid-1990s.
I thought about that caller's response—and the increasing numbers of people on all sides of the political divide who are intent upon constructing their own, evidence-free realities—when I read a column by Star Parker in a recent IBJ Forefront, repeating a number of tired—and inaccurate—tropes about Plan-ned Parenthood, and ending with the assertion that "family planning" is really an insidious, pernicious form of racism.
According to Parker, Planned Parenthood isn't about providing needed medical care to women who might otherwise not access breast exams or afford contraception—the vast majority of its services—but rather "about discouraging black women, and other poor women, from having children and encouraging them to abort their pregnancies."
The column began with an accusation that Planned Parenthood is somehow (it isn't clear how) evading the long-standing laws forbidding use of public money for abortions—something Parker trusts Donald Trump (who described himself as pro-choice before he joined the GOP) to stop.
It went downhill—logically and factually—from there.
Parker argues that government has no business being involved in family planning. That's a policy position; although I disagree with it, it's a fair point of argumentation. Many people don't believe government should be involved in providing health care of any sort; again, I don't consider that position viable, but reasonable people can certainly argue about it.
What isn't reasonable—or honest—is the use of unsubstantiated and clearly untrue accusations to attack an organization that provides essential medical services to women who could not otherwise access them, and that does so in compliance with Medicaid policies that a majority of Americans support.
No one is forced to visit Planned Parenthood. No one is coerced into using birth control or having an abortion. In our constitutional system, the decision whether to procreate is a private one reserved to the individuals involved; it is not a decision government has the right to make.
Parker is entitled to her opposition to contraception and abortion, although I deplore her evident willingness to deprive millions of poor women access to health care to see to it that they behave in ways she approves. Her creation of "alternate facts" to justify her position, however, is symptomatic of so many of the other unfortunate debates in which we are currently embroiled.
We can't base policy positions on manufactured "facts" and evidence-free accusations. Screaming, "Well, I choose to believe it," is a recipe for social disintegration.•
__________
Kennedy is a professor of law and public policy at the School of Public and Environmental Affairs at IUPUI.
Please enable JavaScript to view this content.