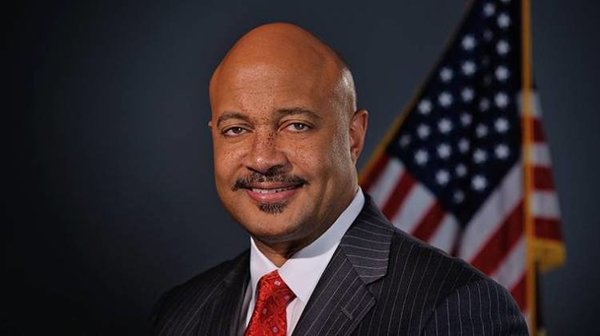 Indiana Attorney General Curtis Hill reaffirmed in a public statement Friday that he doesn't plan to resign, despite calls for him to do so by top state Republican and Democratic elected officials.
Hill has been accused of groping several women, including state lawmaker Mara Candelaria Reardon, D-Munster, at a bar after the General Assembly ended in March. Reardon detailed her allegations in writing Friday.
In a statement released Friday afternoon, Hill said he is being falsely accused of "some of the same crimes I spent 28 years prosecuting."
"I am not resigning," Hill said in the statement. "The allegations against me are vicious and false. At no time did I ever grab or touch anyone inappropriately. The lack of fairness and the failure to recognize my constitutional rights are a complete travesty."
Gov. Eric Holcomb, House Speaker Brian Bosma, Senate Pro Tem David Long and other GOP office holders, including Secretary of State Connie Lawson and Lt. Gov. Suzanne Crouch, on Thursday night called on Hill to resign.
Others, including Indiana Democratic Party Chairman John Zody, had called for his resignation shortly after news of the scandal broke Monday night.
The Indiana Black Legislative Caucus released a statement Friday morning also calling for Hill to apologize for his conduct and to resign.
In his statement released Thursday evening, Holcomb also called for the Indiana Inspector General to conduct an investigation into the allegations.
Hill argued Friday that the Inspector General investigation would not be fair or independent because the governor appoints that position.
"This fundamental lack of fairness and due process regarding this prejudicial so-called 'investigation' is in violation of the principles on which this country is founded," Hill said in his statement.
Hill is requesting the Marion County Prosecutor's Office conduct an independent investigation of the claims.
"Once the investigation is complete and I am exonerated, I would hope that my good name is properly restored with the same vigor with which it has been tarnished," Hill said.
Hill is accused of inappropriately touching Reardon and three other legislative employees at a party in the early morning hours of March 15, shortly after Indiana's annual legislative session came to a close.
Reardon wrote that Hill "placed his hand on my back and slid his hand down to my buttocks and grabbed it." She told him to "back off" and walked away, but he approached her later in the evening and touched her again.
She said she initially planned to address the issue with Hill directly, but later heard that three other women had similar experiences with him that night, so they approached House leaders from both parties.
That prompted an investigation by Bosma, Long and top staff members, and the leaders hired Indianapolis law firm Taft Stettinius & Hollister to determine what action they needed to take.
The memo from Taft, dated June 18, says that Hill's alleged conduct toward the legislative employees may have been "inappropriate," but was "likely not severe or pervasive enough to result in a hostile work environment." However, the firm found that Hill's conduct toward the lawmaker was "likely egregious enough to meet the threshold of 'severe.'"
The report recommended that legislative leaders discuss the allegations with Hill, even though they were under no legal obligation to do so.
Hill was not interviewed as part of the internal investigation—a move he believes was unfair.
Democratic state Rep. Ed DeLaney told IBJ on Friday morning that he will proceed with an impeachment process if Hill does not resign.
"Even his own party says he's not fit to be in the office," DeLaney said. "There will have to be an impeachment."
The impeachment process would begin in the Indiana House. Bosma has not commented on whether that is something he would consider.
Please enable JavaScript to view this content.