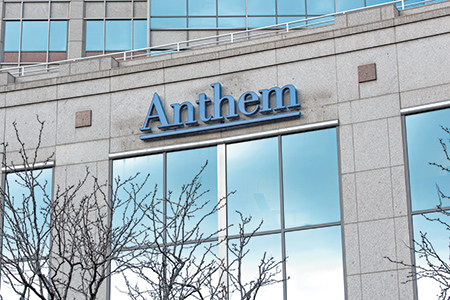 Anthem Inc. is dropping its plan to rip up a wide grassy area on its downtown campus on Virginia Avenue to build 60 private parking spaces for executives.
The Indianapolis-based health insurer said Wednesday morning it will instead upgrade an existing parking lot and a connection to the nearby Bankers Life Fieldhouse garage.
"After carefully evaluating our parking options and receiving valuable feedback from neighbors, Anthem has decided to pursue an alternative solution to meet its parking needs at our new headquarters," the company said in a written statement to IBJ.
The company's plans, announced last month, generated criticism from some public officials and neighborhood groups that it would eliminate a large swath of green space along a popular corridor for walking and biking. The site is just steps from the Indianapolis Cultural Trail and a few blocks from the Fletcher Place cultural district, filled with restaurants, apartments and storefront retail.
Anthem had sought a zoning variance for the project. Under city law, new surface parking lots have been banned from the Mile Square for about a decade.
The company did not provide details on plans to "upgrade" its existing parking lot, but said it would make plans public in coming weeks.
"We will partner and share with the city and neighborhood associations our ideas over the next several weeks," the company's statement said.
Anthem is in process of moving its corporate staff out of its longtime headquarters on Monument Circle and consolidating those offices on its large campus just south of downtown, known as the Ben Lytle Center. The company is spending $20 million on the consolidation and expansion.
The company's current parking lot is north of the Lytle Center building, adjacent to the heliport.
"We are not currently looking at an expansion of this lot, but instead seek to upgrade it," Anthem said in an email to IBJ. "We are in the process of working through the details regarding upgrades needed to meet our needs and will share our ideas with the city and neighborhood associations over the next several weeks."
Please enable JavaScript to view this content.