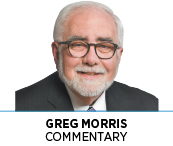 I spent a recent afternoon visiting the magnificent Indianapolis Central Library downtown and had an inspirational talk with CEO Jackie Nytes.
Do you ever wonder why libraries are even necessary in these days of internet research, easy access to online books and printed books delivered in a day?
Well, you might be surprised to know libraries are still very relevant and are critically important components of our communities. In fact, in 2017, there were 4 million walk-in visits to all Indianapolis Public Library locations, a 4 percent increase over 2016. The library has more than 401,000 library cardholders, of which approximately 171,000 are considered "active" borrowers.
You'll find more than books in today's library. Our library system boasts more than 14 million items in various formats—62.1 percent books, 16.6 percent DVDs, 14 percent e-materials, 4.7 percent CDs and 2.6 percent audiobooks. The library continues to introduce new digital products while maintaining its robust collection of physical materials. There were more than 10 million visits to the library website in 2017.
The library tries to live up to its mission statement—to enrich lives and communities through lifelong learning—and its vision statement—to be a center of knowledge, community life and innovation for Indianapolis.
It's important to remember that many people do not have the resources to buy a home computer, a digital tablet, smartphone or internet access. Many don't have a means of transportation. So, a conveniently located library opens up a world of knowledge and opportunity.
This is what our library system does well. And perhaps most important, the libraries and staff do a great job of stimulating young minds. The library's early-education efforts focus on developing the literacy skills of children and introducing them to digital resources. In 2017, more than 48,000 children read nearly 950,000 books during the 2017 summer reading program, "Read It & Eat." And this year's summer reading program is in full swing.
A range of dynamic programming enables the library to foster personal growth and serve as a center of cultural and civic activity. Adults can sign up for their own summer reading program. Free computer classes range from basic computer skills to advanced activities like web development and coding. Last year, approximately 7,750 people attended more than 1,100 computer classes.
Made possible by a Lilly Endowment grant of $1.3 million, the Center for Black Literature & Culture offers an environment for visitors to build an awareness of black culture and to discover its rich heritage through, books, images and special events.
In the spirit of providing convenient locations, the library—using $58 million from individual bond issues­—is building new libraries, rehabbing others and creating new locations.
Also, event space can be rented in the flagship Central Library at 40 E. St. Clair St. You can host your next corporate or private event in one of more than 10 unique spaces designed to hold 15 to 1,000 people.
I've barely scratched the surface. But I highly recommend you rediscover one of the 24 public library locations in Marion County or the library in your local community. You'll find a lot more than books, and I hope you will be as inspired as I was•
__________
Morris is publisher of IBJ. His column appears every other week. To comment on this column, send email to gmorris@ibj.com.