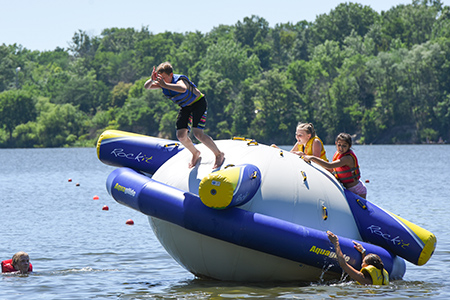 Longing to spend a day on the beach without spending a fortune on travel? Shimmy into your swimsuit, slather on the sunblock, and tuck your toes into the sand at these Indianapolis-area public beaches:
Eagle Creek Park Swimming Area
Address: 7800 Eagle Beach Drive
Hours: noon-5 p.m. Tuesdays-Fridays, noon-6 p.m. Saturdays, noon-5 p.m. Sundays (closed Mondays)
Cost: free for age 2 and younger; $4, weekdays, and $5, weekends, for ages 3-17 and ages 55 and older; $5, weekdays, and $6, weekends, for ages 18-54. $1 discount Saturdays after 5 p.m.
Situated in a city park on the east side of Eagle Creek Reservoir just north of West 56th Street, this stretch of sand allows access to swimming areas that are about 3 feet to 5 feet deep. A bathhouse is available for swimmers to change in and out of their suits, and lifeguards are on duty to provide peace of mind. Swimming fees (charged in addition to the park admission fee) include access to the Plunge Harbor inflatable fun zone, as long as the swimmer passes a swim test and wears the provided life jacket. Restrooms, a playground, picnic tables and concessions are nearby.
Morse Beach
Address: 19777 Morse Park Lane, Noblesville
Hours: 3-7 p.m. Fridays, noon-7 p.m. Saturdays and Sundays
Cost: $3, Fridays; $4, Saturdays and Sundays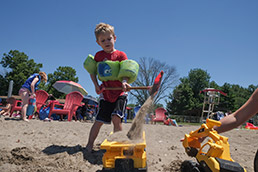 Mason Warren plays in the sand at Morse Beach.
Located in Hamilton County's Morse Park on the southeastern shore of Morse Reservoir, this weekends-only haven is managed this season by Friends of Central Pool. Concessions and a bathhouse are available inside the fenced-off area, and a limited number of chairs are available on a first-come, first-served basis. Bring your own life jackets, pool noodles or other small floaters, but leave giant inflatables at home and coolers in the car. Although you can't unpack your cooler at one of the umbrella-topped tables at the beach, the park does have pavilion space and charcoal grills nearby. A previous operator offered an inflatable adventure area, which is not available this season. Swim at your own risk, as lifeguards are not provided.
Saxony Beach
Address: 13358 Pennington Road, Fishers
Hours: 11 a.m.-7 p.m. daily through July 31; 11 a.m.-7 p.m. weekends only, Aug. 1 through Labor Day
Cost: free for Fishers residents (just show an ID) and ages 2 and younger; $5 for nonresidents and guests
Built as part of the Saxony development near Hamilton Town Center and turned over to the Fishers Parks Department about five years ago, this 300-foot beach provides access to a 20-acre man-made lake. Lifeguards keep an eye on swimmers, and private vendor Freedom Kayak rents water-sports equipment. Come dressed for the beach, because the only restrooms are portables. (The permanent restrooms at nearby Saxony Hall are reserved for events held at that facility.) Limited concessions are available onsite—and food trucks sometimes make an appearance—but guests are also allowed to bring their own food and drinks into the beach area. A boardwalk provides sand-free picnic options.•
Please enable JavaScript to view this content.