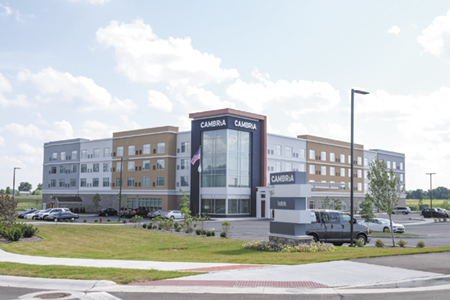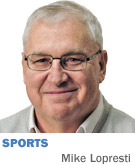 WESTFIELD—Corporate suites at an NFL training camp? Blitz drills nearly next door to a coed flag football game? Turn left to see Little League, and right to see Andrew Luck?
Welcome to Grand Park, 2018. The Colts will be here soon with their training camp—for the first time—and the man in charge of getting the place ready is a tad anxious.
"For me, this is kind of surreal, just having this opportunity to host it," Grand Park Sports Campus Director William Knox said the other day in his office. "For the city, when we developed Grand Park, it wasn't on our radar. But quickly, as we started looking at all the pieces we had … why not?"
Notice the football on the table in Knox's office. An NFL game ball from long ago—Oct. 31, 1976, carrying the score Bears, 14; Vikings, 13. His father, Bill, was a defensive back for Chicago.
"That was the day I was born," Knox said. "They played the Vikings and they gave my father the game ball, so he gave it to me and I keep it with me wherever I go. I'll give it to my son at some point."
After retirement, Bill Knox would occasionally visit the Bears' training camp and take little William, who'd go chasing after the players. "I got Walter Payton's autograph," he said. "I still have it."
Three decades later, William Knox is back at NFL camp—as host. Yep, surreal. And quite the new plum for his city.
"What we've been charged with by way of the mayor is to make this the best training-camp experience in the country," he said. "I think that's what we've been aiming for. It's a moving target because so many people do it in different ways, but I think the experience we will provide for the Colts fan base, they probably won't get anywhere else."
There are some things Grand Park isn't.
It isn't Napa Valley, where the Oakland Raiders train, while the weekend drivers roll by on their way to wine country.
It isn't the Greenbrier resort in the mountains of West Virginia, where the Houston Texans work on pass defense 1,200 miles from home, but close to the horse stables.
It isn't St. Norbert College, six miles down the road from Green Bay. The Packers first went there for camp in 1958, even before Vince Lombardi hit town.
Training camps come in all flavors. The New England Patriots work out at home, at Gillette Stadium. The Dallas Cowboys jet off to suburban Los Angeles, two time zones away.
What Grand Park is, is close to the Colts fan base. And big. Very, very big—400 acres spread across Hamilton County, including a huge events center. Large enough, according to its website, to hold the Indianapolis Motor Speedway racetrack and Bankers Life Fieldhouse and Lucas Oil Stadium and Victory Field and the Indianapolis Zoo.
When the national media visits, as it tends to do at NFL training camps, how can it not notice the mostly green grandeur of the place?
"You can't quantify that," Knox said. "A lot of people have never seen anything like this before—a 400-acre sports campus with an almost 400,000-square-foot building. There's not many of these around, so we think it will get a lot of value from the media exposure.
"If you tipped this [events center] on its side, it's almost as tall as the St. Louis arch."
Good thing Knox served on the Super Bowl Host Committee and with the organizers who brought the BMW Championship to Crooked Stick. "When we first started the conversations, I knew this would be a huge task. You scale what you did for those, with what we had to do here for this training camp and it was very similar."
Another thing: There are weekends, Knox said, where Grand Park nearly doubles the size of Westfield, with up to 28,000 visitors.
So they know crowds. Nearly every field and diamond will be in use on coming weekends, be it T.Y. Hilton running pass routes or little Tommy in right field. Look one way, and it'll be Adam Vinatieri kicking field goals. Look another, and a flag football tournament will be going on. Knox said the Colts like the idea, hoping it draws more fans.
It's crunch time for Knox and his staff. The 6,000 seats are up by fields 10 and 31, where the Colts will practice. Also ready are the 10 suites that will have room for 33 people each. Not many training camps come with suites.
"I can't imagine they do," Knox said, "and I've done a little research."
Holes have been dug 12 feet deep for the NFL goalposts. A huge parking lot awaits Colts City and its various fan activities. Knox and his staff are moving to temporary trailers because the Colts are taking over the events center, lock, stock and X-ray machine.
Huge washers and dryers have been moved from the Colts' West 56th Street complex; Grand Park will get to keep them and offer its customers laundry service. New locker rooms have been built, to be used later by the Indy Eleven, who practice here. An indoor soccer field is now covered with weight and cardiovascular machines and hydrotherapy pools. Good thing the events center hosts trade shows, so it has the power capacity for all that equipment.
"It's the little things you never think about that naturally worked out," Knox said.
The grass surfaces needed a little extra maintenance, but not much. "These fields are naturally pampered," he said. The plentiful space was a main draw for the Colts. So was the new hotel just across the street, to be used more or less as a team dorm.
"The hotel was the piece I think that put us over the top," Knox said.
The city of Westfield has gone all in. More than 400 volunteers are involved. There'll be a concert and fireworks the night before the first practice, and kids carrying helmets for the players, and special theme days. Local hospitality will be in a continual two-minute offense.
So, really, what could go wrong? What keeps Knox up at night?
"Right now, it's related to parking, there being so many unknowns. We have a good plan in place and we've got A, B and C options, [but] we don't know if it's going to be 6,000 or 20,000 on a given day. The first few weekends of camp, we've already got a full slate of activity on both sides of the park, so adding additional training camp spectators will be the challenge."
He could do without thunderstorms, too. But then, Indiana weather is always part of the deal. Grand Park already has its own technology to detect lightning strikes 10 miles away.
So they're ready for July 25.
"This will quickly become the home of the Colts for 25 days," Knox said. He probably hasn't been this excited about an NFL training camp since Walter Payton signed his paper.•
__________
Lopresti is a lifelong resident of Richmond and a graduate of Ball State University. He was a columnist for USA Today and Gannett newspapers for 31 years; he covered 34 Final Fours, 30 Super Bowls, 32 World Series and 16 Olympics. His column appears weekly. He can be reached at mjl5853@aol.com.
Please enable JavaScript to view this content.