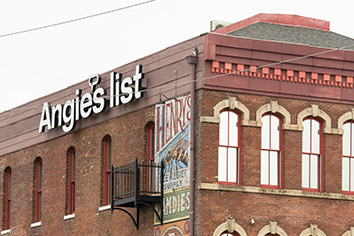 Nearly 10 months after New York-based IAC closed on the acquisition of Indianapolis-based Angie's List and merged it with Home Advisor, the financial fortunes of the combined entity—known as ANGI Homeservices Inc.—are taking off faster than analysts and company officials expected.
ANGI still maintains two separate brands. And it's Angie's List that's generating "a lot more service requests than initially expected," said Rob Sanderson, managing director of Stamford, Connecticut-based MKM Partners.
In fact, ANGI has ramped up visibility and traffic so much of late that it will be able to back off its paid marketing while ramping up supply "to catch the higher traffic levels," Sanderson said in a recent report.
As a result, ANGI Homeservices "expects to achieve a better balance" by the fourth quarter, something Sanderson said is "highly positive and adds [to our] confidence."
That should translate into an even bigger presence in Indianapolis, where the company already has more than 1,000 employees.
ANGI Homeservices CEO Chris Terrill told IBJ this spring that number is about a quarter of the company's workforce, and that ANGI is adding employees here as it grows.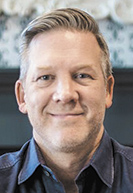 Terrill
That comes after several years of layoffs leading up to the merger.
"We've grown more optimistic in Angie's List and the role it's going to play in this space with each passing month," ANGI Homeservices Chief Product Officer Brandon Ridenour told IBJ.
Officials for suburban Denver-based ANGI Homeservices reported that first-quarter revenue increased 69 percent, to $255.3 million, from the same quarter a year ago, when the company operated as HomeAdvisor.
Excluding the transactional costs of the acquisition, ANGI Homeservices had operating profit in the first quarter of $13.7 million, up from $1.4 million for the first quarter of 2017.
The first-quarter 2017 numbers represent pre-merger finances for HomeAdvisor only.
Angie's List on its own had revenue of $73.1 million and operating profit of $3.5 million in the first quarter of 2017.
That means the combined company's first-quarter 2018 revenue was $31.5 million higher than the total revenue of both Angie's List and HomeAdvisor when they operated separately during the same period a year earlier.
And the merged firm's operating profit soared nearly $9 million over the separate companies' numbers last year.
"We think we've made amazing progress, given how short of a time period it has been" since the acquisition, Ridenour said.
IAC announced the Angie's List acquisition in May 2017 and finalized the deal in late September. ANGI Homeservices began operating as a publicly traded company—and trading on the Nasdaq—on Oct. 2.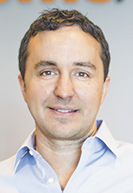 Ridenour
Ridenour said ANGI will only get stronger as the two operations continue to integrate.
Two models, one goal
While some analysts at the time of the acquisition questioned operating two different models for connecting service providers and homeowners, Ridenour said that strategy has been a big boost.
Angie's List uses a directory model and HomeAdvisor works more like a matching service.
Angie's List began in 1995 when it purchased locally based Unified Neighbors, a source for neighbor-generated reviews of home-service providers. Consumers historically paid membership fees to access the company's huge trove of user reviews—intelligence that reduced the risks associated with paying for home services.
But even in its heyday of torrid growth, the company struggled to turn a profit. Then growth abruptly slowed—in part because millennials balked at paying membership fees. With fewer new members, revenue paid by service providers to advertise on Angie's List's website and in its magazine also hit a wall. In response, Angie's List in 2016 rolled out a "freemium" business model that for the first time allowed consumers to access reviews for free.
Meanwhile, HomeAdvisor hummed along with a business model driven by per-lead fees and membership fees paid by service providers. Rather than sifting through lists of highly rated providers, as Angie's List customers do, HomeAdvisor customers respond to a succession of online questions, a process that culminates with a list of up to four recommended service providers prescreened by the company.
"The two models have different appeals to different clients," Ridenour said. "The Angie's List model appeals to people who want a tremendous amount of control. HomeAdvisor is all about taking the friction out of home services. It's about being as fast and painless as we can possibly make it.
"There's a place in the marketplace for both of these now and for the foreseeable future," he added.
The immediate future appears to be on the rise for ANGI Homeservices, with a handful of analysts bumping up its year-end stock-price projection by $2, to about $17. And that could turn out to be low, as share prices rose from $14.93 on June 27 to as high as $16.50 on July 10.
MKM Partners is projecting ANGI's revenue will be just above $1.1 billion this year and nearly $1.4 billion in 2019. BMO Capital Markets projects it will top $1.7 billion in 2020, with profit of $317 million.
"In combining Angie's List and Home Advisor, we continue to see the audience for both companies grow," Ridenour said.
Room for growth
Ridenour said 90 percent of consumers still choose service providers without consulting the internet.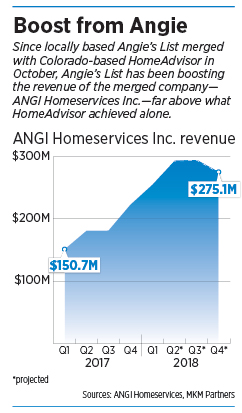 "Our belief is that these are the early days … of moving [service selection] online," he said. "Right now, it's primarily word of mouth, but as the millennials become the dominant homeowners, we believe there are tremendous opportunities for growth."
And despite some analysts' predictions that Angie's List technology wasn't up to par, Ridenour insists that hasn't been the case.
"One of the biggest surprises of the merger is that we walked into a cutting-edge and sophisticated technology shop at Angie's List," he said.
The company got "a bad rap," Ridenour said, because, just before the merger, it was undergoing a massive technology upgrade—which led to some interface problems. That $60 million upgrade was finished nine months before the acquisition, he said.
"Angie's List had been working on that from 2014 through 2016, and people mistook that natural growing pain as being indicative of a broader problem," Ridenour said.
With its technology in place, Ridenour said, company officials have been able to focus on "enhancing the experience." A big part of that, he added, has been smoothing out registration and helping people more quickly navigate the site to find a service provider faster.
"Angie's List had an onerous registration process and, before that, it was a pay system," he said. "We've gotten that smoothed out to the point that people are getting into the platform more easily and quickly."
ANGI officials say their system of add-ons—including background checks and screening of service providers as well as consumer reviews—is a big part of what sets their platform apart.
With traffic increasing faster than expected, analysts said one problem—arguably a good one—is that ANGI has more demand than supply. In ANGI's case, that means people using its site can't get the service they want fast enough.
Analysts call that a "high-class" problem.
"It's also a very real problem," said Andrea Riquier, who covers housing and technology for MarketWatch. "As anyone who's ever tried to hire a plumber to fix an emergency leak knows, it's hard to find good help. That headache, multiplied by hundreds of thousands of households across the country, is ANGI Homeservices' challenge—but also its opportunity."
In addition to trying to attract more service providers, ANGI Homeservices is preparing to launch an opt-in platform that allows service providers to more easily serve customers in need when another job falls through or to take on customers just outside their service area.
The platform, Ridenour said, also will have other features to bring potential customers and service providers together faster and more frequently, "and that's going to lead to even more growth."•
Please enable JavaScript to view this content.