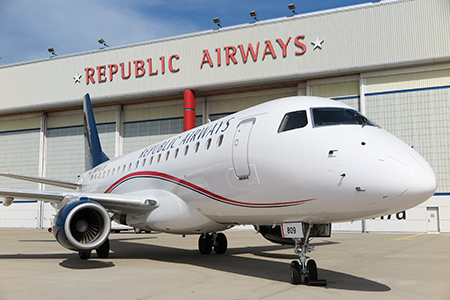 Republic Airways Holdings Inc. said Tuesday that it plans to acquire 100 aircraft from Brazil-based Embraer SA in a deal with an estimated value of more than $9 billion.
The Indianapolis-based parent company of Republic Airline announced it had signed a letter of intent to buy the E175 aircraft.
News service Reuters estimated the passenger jets would cost $9.3 billion based on list prices if all purchase rights were exercised.
The E175 is designed for short to mid-range flights and offers flexible seating configurations that let airlines adjust passenger room to meet market demand. Capacity is listed as 88 for single-class configurations and 76 for dual-class.
The agreement includes an option that lets Republic convert the purchase to E175-E2 aircraft, a newer model that is more fuel efficient and offers longer ranges and slightly more seating capacity.
Republic also secured purchase rights for an additional 100 aircraft.
"Over the past two decades we have acquired more than 350 jet aircraft through our partnership with Embraer," said Republic CEO Bryan Bedford in written remarks. "Through this partnership we have delivered industry leading safety, service and reliability to our codeshare partners, and this order positions Republic to focus on the next stage of growth in the North American regional market."
The letter of intent calls for a definitive purchase agreement to be finalized later this year.
Republic said it operates a fleet of about 190 Embraer 170/175 aircraft and offers scheduled passenger service with about 950 daily flights to 100 cities in 40 U.S. states, Canada, the Caribbean and Central America. The company has about 5,500 employees.
"We are pleased to expand our partnership with Republic as one of our largest and most valuable customers," said John Slattery, CEO of Embraer Commercial Aviation, in written comments. "With a relationship spanning 20 years, we are immensely honored to continue being an integral part of their success as they expand their fleet with additional E175s."
Please enable JavaScript to view this content.