Lawyers for Indiana Attorney General Curtis Hill say allegations in the leaked memo that he inappropriately touched several women are "false and malicious," and he is prepared to sue for defamation.
Hill has been accused of groping Democratic Rep. Mara Candelaria Reardon and three legislative staffers at a bar after the Indiana legislative session ended in March.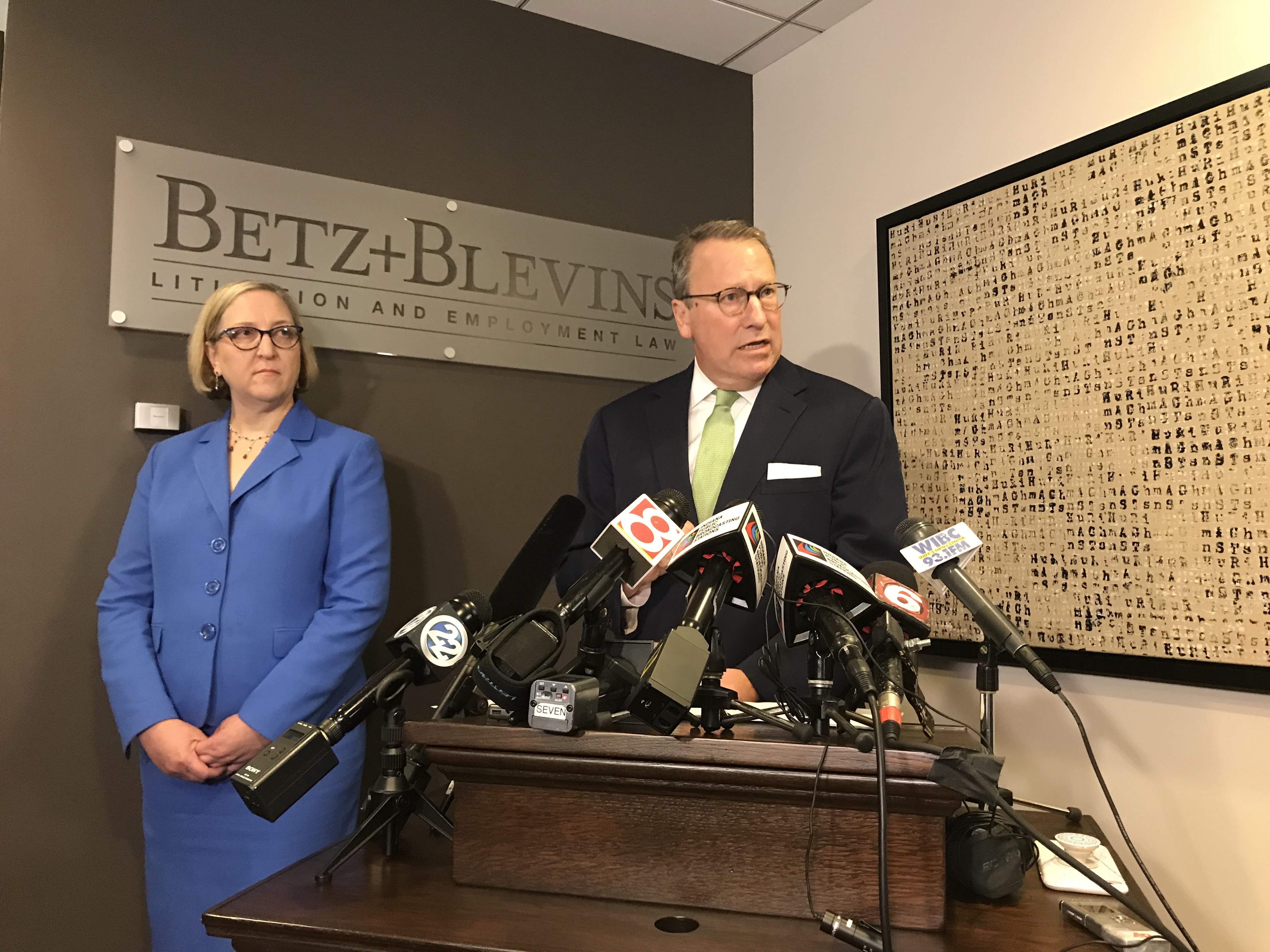 The allegations were made public after The Indianapolis Star obtained a memo prepared by Indianapolis law firm Taft Stettinius & Hollister for legislative leaders. Gov. Eric Holcomb and other state and federal lawmakers have called for Hill to resign amid the allegations. Inspector General Lori Torres is investigating the claims, and a special prosecutor is expected to be named to determine whether criminal charges against Hill are appropriate.
The eight-page confidential memo summarized what legislative leaders discovered in their internal investigation of the claims made against Hill and provided recommendations for how to address the situation as a workplace issue.
Attorneys from Indianapolis law firm Betz & Blevins, who are representing Hill in civil matters, told reporters during a press conference Wednesday morning that they believe certain parts of the memo are false because some of the women who have come forward have made contradictory public statements.
For example, the memo says Hill slid his hand under Reardon's clothing and grabbed her buttocks, but Reardon's published account of the night does not say his hand went under her clothes.
"That is false and malicious," attorney Kevin Betz said.
But Betz said they are not accusing the women of lying. They also aren't claiming Hill is innocent of any wrongdoing. Hill has repeatedly denied the accusations and ignored calls to step down.
"Sometimes no one is wrong (and) no one is right," Betz said. "That is something that no one has considered, and it does occur in these situations."
Betz said his firm is preparing to file a defamation lawsuit against whoever provided the information to Blake Burgan, a Taft attorney and author of the memo, and whoever leaked the memo.
Betz said Burgan is not being targeted for defamation because he did not conduct the actual investigation. Instead, he was just given the information, which Betz argues, has now been proven false.
"We know that the investigation got the facts wrong," attorney Sandra Blevin said. "These inaccuracies in the memo are unfair to all parties, including the women."
Betz said they are calling on legislative leaders to correct the misinformation in the memo, reveal who provided the incorrect facts to Burgan and reveal who leaked the memo.
If they do not receive the information, Betz said they could file a defamation lawsuit against a "John Doe" and request the information through the discovery process.
"We are gathering information with which to evaluate the lawsuit," Betz said. "We believe there is a solid basis to do so."
House Speaker Brian Bosma, R-Indianapolis, and Senate President Pro Tem David Long, R-Fort Wayne, oversaw the internal investigation and issued a joint statement on Wednesday afternoon: "We believe Curtis Hill is the individual who should be answering questions about allegations of inappropriate conduct, and we stand by our prior statements regarding this matter. We are fully cooperating with the Inspector General's Office as they conduct their current investigation and will await the results."
Betz said he is representing Hill as an individual and as an elected official, but he has received no payment for his services so far.
"There may be payment; there may not be payment," Betz said, but added he would make sure taxpayers wouldn't be the ones footing the bill.
Please enable JavaScript to view this content.