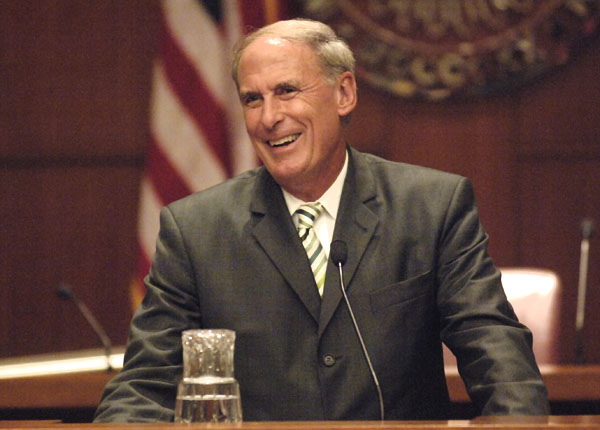 We know Dan Coats took a big risk when—in the wake of President Trump's startling skepticism about Russian meddling in U.S. elections—he adamantly defended the nation's intelligence community.
Coats—a former U.S. senator from Indiana and now director of national intelligence—issued a statement shortly after Trump's July 16 appearance with Russian President Vladimir Putin that said the intelligence community has "been clear in our assessments of Russian meddling in the 2016 election and their ongoing, pervasive efforts to undermine our democracy."
Trump doesn't like it when people disagree with him. And Coats acted without clearing his statement through the White House.
But he was right to do so, and we applaud his chutzpah.
Trump has a blind spot when it comes to Russian interference in the election, one that appears to be driven solely by his concern that acknowledging Moscow's actions would undermine his 2016 win over Democrat Hillary Clinton.
Standing next to Putin, just days after the Justice Department announced indictments against 12 Russian nationalists, Trump called special counsel Robert Mueller's probe a "witch hunt."
The comments drew rebukes from across the political spectrum.
Former CIA Director John Brennan, who served under President Barack Obama, called Trump's comments "nothing short of treasonous."
House Speaker Paul Ryan, a Republican, said in a statement that the president "must appreciate that Russia is not our ally. There is no moral equivalence between the United States and Russia, which remains hostile to our most basic values and ideals."
Even former House Speaker Newt Gingrich, normally a Trump supporter, said on Twitter that Trump's words were "the most serious mistake of his presidency and must be corrected—immediately."
But it is Coats' statement that is getting much of the attention.
That's because, as a member of the administration, Coats takes the most personal risk by standing up to Trump. We applaud that Coats took the moral path, not the most politically expedient one, by speaking up.
Some—including former CIA official Larry Pfeiffer—have said Coats should resign in protest of Trump's statements. We disagree. We believe Coats is right where the American people need him to be, and we urge him to continue his work.
In his statement, Coats said the "role of the intelligence community is to provide the best information and fact-based assessments possible for the president and policymakers," and he added that, "we will continue to provide unvarnished and objective intelligence in support of our national security."
That's precisely why Coats needs to remain in his job. The intelligence community needs a leader who understands that its work goes beyond the politics of the president and who isn't afraid to defend the agencies doing the crucial work of protecting our nation. Thanks to Coats for stepping up to be that leader.•
__________
To comment on this editorial, write to ibjedit@ibj.com.
Please enable JavaScript to view this content.