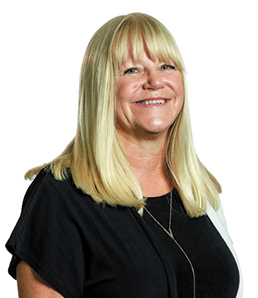 Linda Sullivan's company provides adjusters to federal authorities and insurance companies after natural disasters. (Photo courtesy of Administrative Strategies)
Revenue Growth FY 2015 to 2017: 729%
In action: Where there's a natural disaster in the United States, you're likely to find representatives of Administrative Strategies LLC. The company is hired by the Federal Emergency Management Agency and insurance companies to provide adjusters to handle homeowners and flood-insurance claims. President and CEO Linda Sullivan said, "We go out in those bad circumstances when people are having their worst day and try to help them get through the process and get their insurance money and document their losses so they can get their lives back on track."
Hurricane season: Part of the company's growth springs from the increasing number of natural disasters. Administrative Strategies had people in Texas for Hurricane Harvey and Florida for Hurricane Irma, as well as adjusters to help out in Puerto Rico and the Virgin Islands. The company has a staff of 10 full-time employees. But when a disaster strikes, it can call on hundreds of independent contractors whom it trains, certifies and equips with necessary tools to do the job.
Woman-owned: Sullivan has spent more than 30 years in the insurance industry handling claims. She started Administrative Strategies as a woman-owned business "to look for the sorts of people that match the demos of the policyholders we serve." The company trains veterans, women, minorities and other overlooked populations.
Preparation: Administrative Strategies usually has seven to 10 days' notice before a hurricane hits. In those cases, it puts personnel on standby, making sure their equipment is up and running and they have what they need. Then the company finds out from the client how many people are needed and how many claims are expected. When claims come in, Administrative Strategies uses a proprietary claims system that geocodes everything. "So when we're assigning our adjustors, we can give them a very small area to work in," Sullivan said.
New technology: This kind of work has become increasingly sophisticated. Sullivan said apps now allow her company to send a link that can be used by homeowners to share photos and videos of the damage before adjusters arrive to help speed up the process. When her employees arrive, she wants them to be empathetic because "it's a real tough time in people's lives."•
Check out more of IBJ's ranking of Indy's fastest-growing companies.
Please enable JavaScript to view this content.