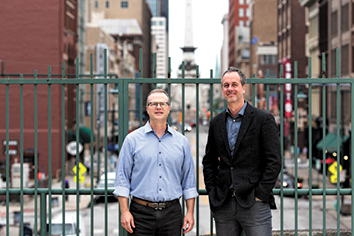 Co-founder Jacob Leffler, left, and CEO Brian Phillips say The Basement selectively chooses clients. (IBJ photo/Eric Learned)
Revenue growth FY 2015 to 2017: 240%
Data-driven: Jacob Leffler, co-founder and president of The Basement, said the secret to the company's success has been its ability to mine data on behalf of its clients and use that information to generate strategic, targeted and effective marketing and advertising campaigns.
What follows: CEO Brian Phillips said the result is a "consumer-first, consumer-centric model. We look at what the consumer is doing, how they're behaving, and then we build strategies around that."
How it works: Phillips said The Basement's work for Schlage, the door locks and hardware company, is a good example of what the company does. The Basement put a pixel on the client's website to extract consumer data and behavioral information. From that data, The Basement was able to determine what TV networks visitors to the Schlage website watched and what times they tuned in. The Basement used that data to inform its TV advertising buy, watched how the ads performed, then adjusted its next purchase to networks that were reaching the target audience. "We're creating smarter and more qualified impressions," Phillips said.
In the beginning: The Basement started as an animation and interactive company, servicing brands across the country and doing national and global product launches and campaigns. Five or six years ago, the company decided to transition to what Phillips called "business success, business focus and media, and the way we drive consumers to destinations and toward transactions. That was the fuel that changed for us."
What's next: Leffler said The Basement plans to grow along with its existing clients and by selectively adding new ones. "Not all clients are a fit for us, and we're not a fit for all clients," he said. "This process takes some time, and it's not easy to do. We're continuing to grow our clients' business and staying focused on their success. When that happens, all boats rise with that tide."•
Check out more of IBJ's ranking of Indy's fastest-growing companies.
Please enable JavaScript to view this content.