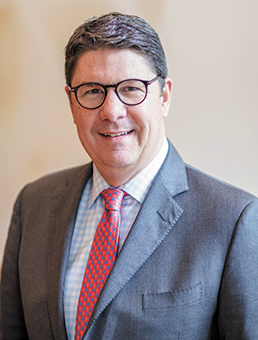 CEO Brad Benbow said JDA Worldwide is pursuing an acquisition. (photo courtesy of Joseph David Advertising)
Revenue growth FY 2015 to 2017: 215%
Game-changers: CEO Brad Benbow of Joseph David Advertising, which does business as JDA Worldwide, credits his company's growth—from $10 million in revenue in 2015 to $34 million in 2017—to becoming the agency of record for the Museum of the Bible in Washington, D.C. ("They were material in our growth last year") and picking up Pure Flix Entertainment (family-friendly and Christian movies and TV shows) as a client. "We've got the perfect clients for us to represent," he said.
Making a name: Benbow said having these clients has enabled JDA to pick up others, including Invesque, the Carmel-based real estate investment company that focuses on health care and senior living properties; Michigan-based Hillsdale College; and the RSM Classic, a PGA tour stop in Sea Island, Georgia, where JDA has an office. "The longer you go and the longer you do good and great work, the more it attracts others who see it and think that might apply to what they do," he said.
Retention: The other success story for JDA has been retention of all its clients, including SeaPak Shrimp and Bleacher Report.
Sustained growth: Benbow said he wants the company to achieve measured growth so clients get the attention they deserve. But JDA continues to pick up clients organically, and the company is actively pursuing an acquisition that could affect its growth for 2018. The acquisition would "broaden the client base and add bench strength to a particular competency we have—and lots of it," he said.
Human capital: As JDA grows, Benbow said, it's important to him to recognize the value his employees bring. "I'm as excited about watching the team grow into who they're capable of being every bit as much as helping our clients do the unimaginable."•
Check out more of IBJ's ranking of Indy's fastest-growing companies.
Please enable JavaScript to view this content.