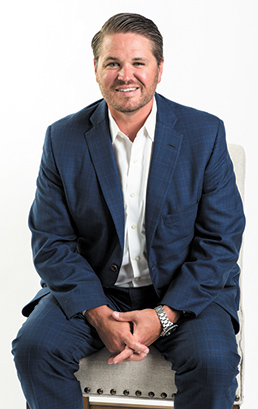 CEO Kyle Bach said the company's move to build affordable housing in university towns has fueled growth. (IBJ file photo)
Revenue growth FY 2015 to 2017: 205%
Refined mission: The Annex Group, which started out building student housing at universities that typically were considered commuter schools, is now splitting its projects between student housing and affordable housing in university towns. That shift in its portfolio accounts for a large portion of the company's growth, CEO Kyle Bach said. "There are more and more affordable-housing renters than there are student, senior or market-rate renters," he said.
In the works: Annex is wrapping up construction projects at Indiana State University and the University of Wisconsin-Oshkosh and getting ready to start work at Louisiana Tech University. The $25 million, 408-bed ISU project is the company's largest to date, Bach said. In the pipeline for 2019 is construction at Tennessee Tech and Montana State universities. "A lot of our peers call student housing 'recession-resilient,'" he said. "I don't think anything is recession-proof. But we really like that business model."
Affordable housing: Also coming up for Annex are a project scheduled for late fall/early winter in Bloomington—$20 million, 146 units of affordable housing—and next year in Indianapolis at West 16th Street and the White River. "The majority of what's been built over the last couple of decades in Bloomington has either been for students or at a market-rate level," Bach said. "We really see a tremendous void in the marketplace for affordable housing."
City support: Bach said the motivation behind the Bloomington project has been that some Indiana University employees can't afford to live close to campus. The city of Bloomington, he said, has been a good partner.
The road ahead: Bach said that, like all companies involved with construction, Annex is tracking interest rates and construction costs, and is dealing with a labor shortage. But overall, "We feel really good about our business strategy and the longevity of that strategy."•
Check out more of IBJ's ranking of Indy's fastest-growing companies.
Please enable JavaScript to view this content.