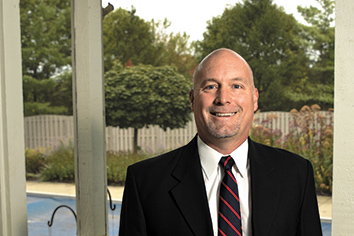 Joe Finkam says iAire will need additional capital if the firm keeps growing as expected. (IBJ file photo)
Revenue growth FY 2015 to 2017: 193%
The start: In 2010, Joe Finkam, a Purdue-educated engineer, had an idea for an accessory to put on heating/air-conditioning systems to improve the outside air brought into commercial buildings. His plan involved cleaning the air that's brought in while also bringing in less air. The result: cleaner air and lower utility costs. That year, he lost his job running a division at MicroMetl, which makes sheet-metal accessories for heating and air-conditioning equipment, and decided to pursue the patent.
Change of plans: By 2014, iAire was in business and selling the initial product Finkam envisioned. Then Finkam spoke to a distributor in Florida about a shop it ran that was building 100 percent outside-air units. iAire took over that shop and started building those complete units—what the heating-ventilation-air-conditioning industry calls dedicated outside air systems. "That took off so quickly," Finkam said, "that we haven't had time to deal with anything other than trying to do what we're doing. And that's the growth that's happened." He put the patented idea on the back burner.
How iAire works: Finkam said iAire is predominantly a provider of commercial equipment. Rather than build the units from scratch, it buys a Carrier or York unit and modifies that product to be able to deal with extreme temperatures and humidity. The revamped unit carries its own warranty and the iAire name.
Alternate use: As IBJ reported in September 2017, the ability to control both temperature and humidity, which is not found on traditional HVAC systems, is also popular with marijuana growers. "I'm still not sure whether I want to chase equipment into that market," Finkam said.
Great potential: "The industry that we're in, the [dedicated outdoor air system] business, is a $250 million to $500 million segment," Finkam said. "If we do things right and are able to maintain quality—and we've got to find some additional capital because we're growing to the point that we're going to max out our plan this year—I think we can get to 10 percent of that market."•
Check out more of IBJ's ranking of Indy's fastest-growing companies.
Please enable JavaScript to view this content.