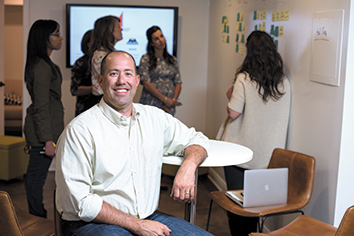 CEO Mike Reynolds called Innovatemap the "architect and the interior designer" of the software products. (IBJ file photo)
Revenue growth FY 2015 to 2017: 159%
In house: Innovatemap is a digital-products agency that helps tech companies put the best possible product into the marketplace. CEO Mike Reynolds compares what his company does with building a house. "You know you need to pour concrete and put up frames," he said, "but you ideally would have started with an architect first who would have worked with you and helped bring your vision to life. We're the architect and the interior designer of the software products."
Under construction: What Innovatemap does is known as user-experience design: enhancing user satisfaction with a product by improving its usability, accessibility and the pleasure provided in the interaction with the product. To continue the housing metaphor, Reynolds' firm also does renovations and add-ons. So if it's working with an existing product, Innovatemap will figure out how to improve both the product and its standing in the marketplace. In addition, Innovatemap helps companies—including Cummins, Delta Faucet and Herff Jones—improve their digital presence.
Tech boom: The growth of the tech industry in Indianapolis has been a boon for Innovatemap, whose client list includes DemandJump, Perq and Torchlight. "As there are more ideas, as there are more tech companies, that's just more people that should have a solid design and approach to their product," Reynolds said. "They all know how to make themselves successful, how to put a company together and build and sell software, but … they know they'll be differentiated and more successful if it's well-thought-through in design." Although the company has some out-of-state clients, it mostly focuses on Indiana.
Getting started: Reynolds created the company a little more than four years ago with former members of the product team from Aprimo. At the time, he said, the value of design in the tech industry was not as widely understood as it is now. "When we were trying to sell [our services] in the first year of the company, those were challenging conversations."
Plans: Innovatemap expects continued growth. "Each year, there's about three or four winning ideas that have walked in our door, and we cannot wait to see them thrive," Reynolds said. "That will be a great thing for the community and a great thing for our firm."•
Check out more of IBJ's ranking of Indy's fastest-growing companies.
Please enable JavaScript to view this content.