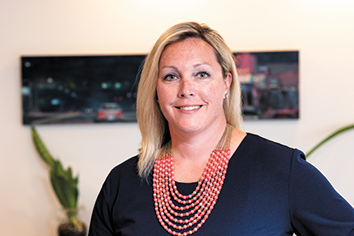 CEO Jessica Nickloy said the company is now working on much larger projects. (IBJ photo/Eric Learned)
Revenue growth FY 2015 to 2017: 150%
Etica 2.0: On April 12, 2017, The Etica Group—a consulting firm that provides architecture, civil engineering, construction inspection, land surveying and other services—finalized the purchase of Avon-based Parsons Cunningham & Shartle Engineers Inc. The acquisition more than doubled Etica's staff and also helped more than double its revenue. "We are a new company," President and CEO Jessica Nickloy said. "We've added service lines and our staff has changed a lot. We're like a house that completely did a remodel. We're still family-oriented, but we're also larger, so you get the feel of both." She added that she's particularly proud of the way the staffs have handled the merger. "It's tough when you go through a merger-acquisition, but they've all been great."
New services: Through the acquisition, Etica added transportation engineering and another line of inspection work to its repertoire. "We're working on much larger projects now, especially since we're now working on the INDOT side in transportation engineering," she said.
Among its projects: Etica employees are busy these days with inspections of Interstate 69 near Bloomington, the Red Line and Purple Line for IndyGo, and projects for the U.S. Air Force, Citizens Energy Group, INDOT, Purdue University, Kokomo, Brownsburg and Wayne Township schools, among others.
Help wanted: Etica now has a staff of 60 in its four Indiana offices (Indianapolis, Fishers, Avon and New Haven), up from 53 at the end of the year. Nickloy said that, with unemployment so low statewide, "finding the workforce you need is one of the biggest challenges."
What's next: Nickloy said the company has been analyzing other services it might want to add and how it wants to grow. She expects "a continuation of the strategic methodology behind what we're doing and how we're going to do it. … We know we're going to get bigger, but we don't know what that maximum is going to be."•
Check out more of IBJ's ranking of Indy's fastest-growing companies.
Please enable JavaScript to view this content.