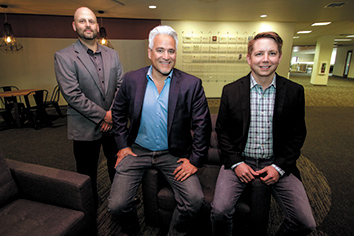 Pondurance partners—from left, Dustin Hutchison, Ron Pelletier and Landon Lewis—keep the names of their clients a secret. (IBJ file photo)
Revenue growth FY 2015 to 2017: 130%
Cybersecurity needs: Pondurance partner and co-founder Ron Pelletier said his company's "Threat Hunting & Response" approach to computer security—defending systems and actively seeking out and destroying threats before they strike—has been "taking off and filling a great void. When customers are recognizing what we have and what we can bring to them as a security partner, they're responding well to it and it's providing rapid growth for us."
Constant threats: Founding partner Landon Lewis said Pondurance is seeing cybercriminals using technologies like cryptocurrencies that make it easier to avoid getting caught by masking where money goes. "You can exchange one currency for another before you convert it, so it goes in your pocket or in your bank account and you can actually use it," he said.
Advice: "What we tell our clients is this," Pelletier said. "Compliance is what you have to do. Security is what you should do."
Held for ransom: Pondurance keeps the names of clients secret, but one organization disclosed that it hired Pondurance after its computers were attacked. In January, Hancock Health's computer system was infected by a ransomware attack that encrypted the data files on its systems with a private key. The hospital paid four bitcoin to receive the key to unlock its data. Pelletier said Hancock Health's transparency "was refreshing in a lot of ways and brought a lot of awareness to this problem. I think that, because of them, a lot of organizations will be able to be prepared for this."
Ready to compete: Pelletier said Pondurance has been successful in Indiana "because of the way we interact with our clients in taking the position of empathy and not judgment. We think like the people who live here, and that has brought a lot of work that way." Now, the company is broadening its scope. Lewis said Pondurance's Threat Hunting & Response system is starting to compete with national and global contenders like Cisco and IBM. "We're landing some of the largest businesses within Indiana as well as small and medium businesses that have cybersecurity needs."•
Check out more of IBJ's ranking of Indy's fastest-growing companies.
Please enable JavaScript to view this content.