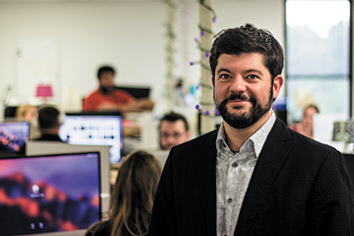 CEO Michael Osborne said the retail industry is growing. (Photo courtesy of SmarterHQ)
Revenue growth FY 2015 to 2017: 89%
Behavioral marketing platform: SmarterHQ helps retailers understand the behavior of their customers and take action on it by targeting them with what President and CEO Michael Osborne calls "the right message at the right time based on their behavior." Adding new customers and getting existing clients to sign up for additional services have triggered the company's growth.
Big name: Osborne uses Bloomingdale's—a SmarterHQ customer for more than four years—as an example. SmarterHQ collects data that shows the behavior of customers clicking through, adding to their cart, and purchasing or not purchasing. From that, it builds a profile that allows the retailer to predict what consumers are most likely to want to look at and hear messages about. Are they likely to purchase in the next 30 days? Do they need a promotion to get them to buy?
Retail is alive: Despite what you might have read about retail being dead, Osborne said the opposite is true. "The right brands doing the right things have seriously grown, and a lot of our customers, if you read their earnings reports over the last few quarters, have grown leaps and bounds. That's partly due to SmarterHQ. We can take credit for some of that because of the services we offer them and how they utilize them."
Next steps: Osborne said that, while SmarterHQ has had "great success in retail," travel and hospitality and financial services are areas the company has been branching into. That effort is bearing fruit now with new clients and more to come, he said. SmarterHQ also continues to broaden its ability to examine mobile shopping habits.
A good place: Osborne works from Austin, Texas, but he said it's good for SmarterHQ to be based in Indianapolis. "It's not an average place to see a marketing-technology firm come from and do well. Most of the time, [people] expect them from the coasts. This gives us an advantage. They see us as giving great service and delivering a trusted relationship to the client, one that they can depend on."•
Check out more of IBJ's ranking of Indy's fastest-growing companies.
Please enable JavaScript to view this content.