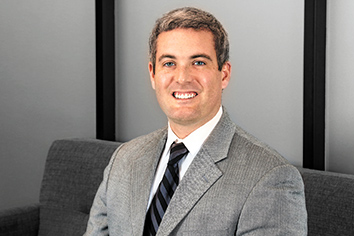 CEO Ben Conner (Photo courtesy of Jay's Moving Co.)
Revenue growth FY 2015 to 2017: 80%
Accidental owners: In 2007, Jay Harper, owner of Jay's Moving Co., called Ben Conner and Todd Hufford for an insurance quote. The conversation shifted to the future of the business, and Harper told them he was selling his family-owned company. In February 2008, "We were the people who were just dumb enough to buy a moving company just before the housing market crashed," Hufford said.
Modernize: The new ownership, which included Annie Spencer (Conner's sister, Hufford's sister-in-law), decided to update the business. They stopped their Yellow Pages ads and started marketing directly to people. "It's the one business I know of where people who need your services put a sign out in their yard and ask for help," Hufford said. "So we marketed directly to homes that were for sale." They also changed the company logo to one that's both contemporary and retro and reflects its location in Fountain Square.
Community-oriented: The new Jay's also made its presence known, partnering with not-for-profits and events, including the Mutt Strut and Drumstick Dash. When the company received calls for donations, it gladly provided men, trucks and boxes. After the Richmond Hills explosion in 2012, an acquaintance called on a Sunday to say donations were piling up at a local school and they needed to clear out the gym before classes on Monday. Jay's sent trucks that day to move the donations to a church around the corner.
The results: The changes have helped grow the business, which is based on moving people locally. In January 2017, the company purchased Colen Moving & Storage, a United Van Lines agent based in Fort Wayne that does long-haul moves. Hufford said that acquisition helped boost revenue.
Continuing legacy: Jay Harper died at 81, about a year after he sold the company. "When we bought the company, we said, 'Let's run a business, but how can it be a social enterprise where it serves the city?'" Hufford said. "We're still upholding Jay's values and his legacy."•
Check out more of IBJ's ranking of Indy's fastest-growing companies.
Please enable JavaScript to view this content.