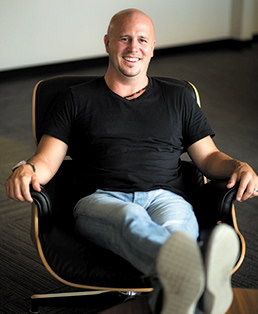 CEO Scott Moorehead's Round Room operates 1,208 cell phone stores. (Photo courtesy of Round Room)
Revenue growth FY 2015 to 2017: 68%
More stores: Round Room, a holding company that owns TCC and Wireless Zone cell phone stores, added 41 locations in 2017, bringing its portfolio to 1,208. That's one way Round Room grew. Jason Buck, TCC's vice president of marketing, said Verizon has sold off many of its corporate-owned stores to what he calls "the Big 6" cell phone retailers, of which Round Room controls two. (GoWireless, Victra, Russell Cellular and Cellular Sales of Knoxville are the others.)
More growth: Round Room continued to add stores in 2018, buying Wireless Advantage's 45 locations in February. "We get so used to acquisitions," Buck said. "It's just one more thing we have on our plates."
More locations: Round Room also owns Redux, a machine that removes moisture from electronic devices. Buck said Redux added 900 locations in 2017, to 1,500 total. That also accounted for Round Room's growth.
Expanding technology: Buck said he expects Redux to grow internationally in 2018 and beyond. "This is not just a product that works in the U.S.," he said. "It works anywhere there's a cell phone or a device that needs drying." In addition to cell phones, it can be used to dry out key fobs, hearing aids, game controllers—essentially, electronics that are smaller than a tablet. And Redux technology may well end up in hotels, drug stores and even on cruise ships. "They have a really interesting future because the sky's the limit as far as finding ways to apply Redux and markets to grow into," Buck said.
A third enterprise: Round Room's other company is Culture of Good, a business that teaches companies that employees who are inspired can create both positive change in the world and add to their employer's bottom line. "It's all about figuring out how a for-profit company can live with the heart of a non-profit by allowing employees to bring their souls to work," said Round Room CEO Scott Moorehead.•
Check out more of IBJ's ranking of Indy's fastest-growing companies.
Please enable JavaScript to view this content.