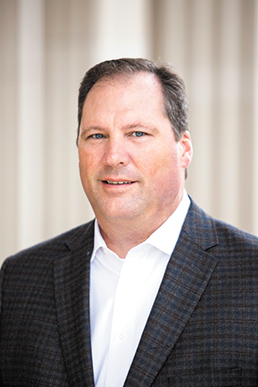 Co-founder John Stitz says the firm is looking to make strategic acquisitions. (Photo courtesy of enVista)
Revenue growth FY 2015 to 2017: 62%
Unified commerce: EnVista has maintained what co-founder and principal John Stitz calls "steady and consistent growth over the years," and the company's attention to unified commerce solutions is a big reason why. Unified commerce enables shoppers to buy, receive and return items anywhere and retailers to be able to fulfill orders efficiently. "This a big investment area for us and an area where we're seeing significant interest from our clients and a lot of additional revenue potential coming our way as a result," Stitz said.
What they do: EnVista's job is to make companies' supply chains as efficient as possible and unify commerce to increase customer engagement. It does that using a combination of software products and professional services. "One part of our business reduces your cost," Stitz said. "Another part of our business helps you drive your top-line revenue."
New client: Yankee Candle is one company that enlisted enVista's help to better manage orders that come in either online or through one of its brick-and-mortar stores. Stitz said enVista was able to deploy a software system that enabled the company to locate an item in its inventory and ship that item to the customer in the most efficient way possible. "Ultimately," Stitz said, "it helps them increase revenue because they don't have a lost sale. If they had no visibility of their inventory, they might potentially lose a sale because the customer might go to a different site."
Community outreach: Stitz said enVista's footprint can be seen not only in its supply-chain work but also in its philanthropic efforts around Indiana. The company is proud of its fundraising and employee efforts to support Outreach Indiana, a program for homeless youth, and Habitat for Humanity.
What's next: In 2018, enVista plans to make some strategic acquisitions, Stitz said. The company is looking to expand the services it offers and extend its footprint globally. "In some areas, we're already global," he said. "But our solutions suite could become global sometime down the road."•
Check out more of IBJ's ranking of Indy's fastest-growing companies.
Please enable JavaScript to view this content.