An employee complains about sexual harassment in the workplace—what should a supervisor do next?
It's a situation in which employers increasingly find themselves. And one of the most recent examples is all over the news. A state lawmaker and three women who work for the Indiana General Assembly have accused Indiana Attorney General Curtis Hill of inappropriately touching them at a bar in March.
According to data from The Pew Research Center, 44 percent of Americans say they have been sexually harassed. And of the men and women who report harassment, a majority say it happened in the workplace.
But that doesn't mean employers are prepared to handle the situations.
Legislative leaders have been criticized, mostly by Hill's attorneys and supporters, for how they handled their investigation: Interviews were conducted internally and not by the same staff members each time, and the outside firm hired to provide legal advice, Indianapolis law firm Taft Stettinius & Hollister LLP, did not independently interview anyone involved.
Kevin Betz and Sandra Blevins, the Indianapolis civil attorneys Hill has hired, described the investigation as "highly irregular" and "flawed" during a July 18 press conference. Hill has denied wrongdoing.
"It is unusual in our opinion for someone to provide legal advice in this way without having personally interviewed the witnesses," Blevins said.
So, what is the best way for an employer to handle sexual harassment complaints? Does the person accused need to be interviewed? Do all interviews need to be conducted by the same person or group?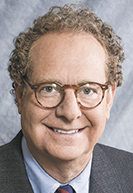 Blickman
Different circumstances can call for different approaches, but employment law experts say there is a common process they suggest employers follow to properly address the situation and move on.
"The goal of the investigation is to eliminate the issue if the conduct is inappropriate and to take action that is effective and that is prompt," said Michael Blickman, labor and employment partner at Ice Miller LLP.
Have a clear policy
For starters, companies should have a sexual harassment policy that outlines what behavior is not tolerated and the process for reporting misconduct.
"They need to have a pretty clear policy telling employees how and where they can complain," said Indianapolis employment attorney Stephanie Jane Hahn. "Employers are not always consistent or clear in their policies."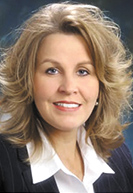 Hahn
And that policy should be updated as necessary.
"You don't want your policy to be adopted and collect dust," Blickman said.
The policy should provide multiple outlets for someone to report misconduct, according to Blickman. In most situations, reporting it to the human resources department is appropriate. But there are cases in which the person accused of harassment works in that department, which means employees need another option.
Both the Indiana House and Senate have anti-harassment policies that outline what behavior is not allowed and the appropriate complaint procedure. Lawmakers are in the process of creating guidelines for elected officials and are required to approve a sexual harassment policy by Nov. 20.
Conduct interviews
Once a complaint is made, the individual (or group of people) reporting the incident should be interviewed.
"It is really important to ask as many questions about the event as possible," Blickman said.
Those conducting the investigation should try to find out who witnessed the incident, he said, what actually happened, how it happened, where it happened and why it happened.
The next step would be to interview any other individuals involved, including additional alleged victims and witnesses.
Blickman said he usually recommends the same person or team be involved with all the interviews.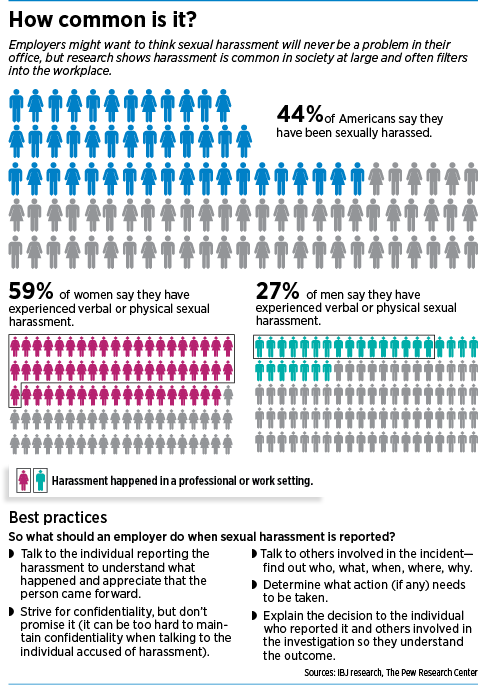 "In most cases, you want consistency in the kinds of questions that are being asked," he said. "And you always want the investigators to hear the answers the interviewees provide."
Hill—through his public statements and attorneys—has argued that House Speaker Brian Bosma and Senate President Pro Tem David Long should have required that the interviews be conducted by the same individuals.
Hill has also repeatedly said he has not been afforded his right to due process because he was never interviewed nor contacted for the investigation. Legislative leaders didn't contact Hill until after the memo from Taft had been written.
Hahn said, in a typical situation, the person accused of misconduct is interviewed to help the employer obtain a better understanding of what happened.
Hill's case is a bit unusual, she said, because he is not an employee of the Indiana General Assembly, so House and Senate leaders couldn't exactly subject him to an interview. That's unlike a typical workplace situation, in which a supervisor could call an employee in for an interview during work hours.
"In this situation, Hill is an elected official, who is only arguably subject to the House and the leadership via terms of impeachment," Hahn said. "I'm not so sure it was inappropriate or not right for the members of the House to not talk to Hill because I'm not sure they had any authority over him in that particular regard."
Don't make promises
Throughout the investigation, Blickman said, supervisors should strive to keep an accuser's identity private, but they should not promise confidentiality.
"Because, in order to be fair to the individual accused of the misconduct, you need to be able to identify enough of the facts so that he or she can respond to it," Blickman said.
Three of the four women involved in the Hill case have come forward since the allegations were revealed—state Rep. Mara Candelaria Reardon, D-Munster; Senate Democratic Caucus Communications Director Gabrielle McLemore; and Niki DaSilva, a legislative assistant for the Indiana Senate Republican Caucus.
Blickman said employers also shouldn't promise any specific outcome of the investigation. Instead, those reporting the accusations should be told a fair investigation will be conducted and any appropriate action will be taken quickly.
When employers have a thorough understanding of what happened, they need to decide what action—if any—needs to be taken.
And once that decision is made, the person who reported the alleged misconduct and others involved in the investigation need to be informed about that action.
Hill's case has been referred to the Office of the Indiana Inspector General f, and Fort Wayne attorney Daniel Sigler has been named special prosecutor, should criminal charges be warranted.
Outside opinions
Often, companies handle sexual harassment complaints internally, but Blickman said it's becoming more common to see companies hire outside firms to handle the investigation and provide recommendations on what action to take.
"An outside firm can be more independent than human resources," he said. "There's so many of these issues that are going on, I think companies, particularly public companies, are more comfortable having outsiders do the investigation."
That doesn't mean it's necessary, though.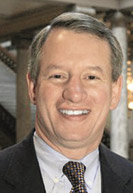 Murphy
Former Republican state lawmaker Mike Murphy said Bosma and Long have the freedom to hire a law firm for whatever help they might need, so they acted appropriately when they hired Taft.
Murphy said the problem was created when Taft didn't interview the women involved, so the reports it received secondhand were "all hearsay."
"It was really sloppy, sloppy work on the part of Taft," he said. "That's one of the reasons there's any controversy at all about the process to date."
Taft referred questions to Bosma's and Long's offices. Spokeswomen for Bosma and Long declined to comment.
But Hahn said it depends on what Taft was hired to do. If it was hired only to provide advice rather than conduct a thorough investigation, then it did nothing wrong.
Murphy said it probably would have made more sense to have Taft conduct the entire investigation rather than only offer legal advice based on others' findings, because then everything would have been handled by professionals.
"I've talked to several lawyers that have said, 'Oh my God, I can't believe this is how it's been handled,'" Murphy said.
But he said it's also possible the victims didn't want to make a big deal out of the situation, so Bosma and Long conducted the investigation internally.
"I don't think Bosma and Long have done anything wrong at all, frankly," Murphy said.•
Please enable JavaScript to view this content.