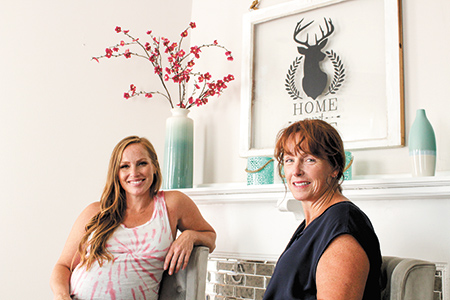 A pale blue home with a wide porch breaks a line of gray-and-brown houses, snug beside a quiet intersection in the historic Bates-Hendricks neighborhood.
Inside, HGTV stars Karen Laine and Mina Starsiak sit in an office in transition—much like their careers, their lives and the neighborhoods in which they work.
The pair is leaving the space for a new office, something they call a "hassle." But navigating a messy home is nothing new for the mother/daughter design and construction team.
Other changes are afoot too.
Starsiak is about to welcome her first child, and the pair plans to open a retail shop and further expand into vacation rental properties.
The women will do it all in the changing neighborhoods southeast of downtown where they have made their names.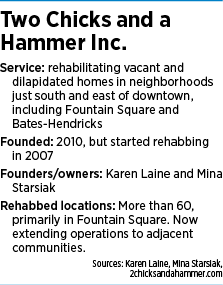 For some time, Starsiak's and Laine's formula has stayed fairly consistent. Since 2007, they have resurrected dilapidated homes on their own and under their rehab business, Two Chicks and a Hammer.
In 2013, a California talent scout invited the women to film a pilot episode for HGTV. Now, for three seasons, the mother-daughter duo has shared their successes and flops on their own show, "Good Bones."
Their third and latest season ended June 26. But now, as they move into their filming months and 13 new rehab projects for season four, the two have much to consider about their next steps.
If they don't want to trip, they must tap new neighborhoods and adapt—not only to the swath of developers now targeting Indy's southeast side, but also to maintain their creativity and care for the heart of the communities in which they operate.
The mother/daughter team started rehabbing in 2007, in Fountain Square, just as the neighborhood was on the verge of a renaissance. Homes that needed help—and many did—could be had on the cheap, then rehabbed and sold for good profits to early adopters willing to take a chance on the neighborhood.
But as Fountain Square grew trendy, more developers moved in, driving up prices. The historic district has added numerous restaurants and retail operations that, some say, have benefited from HGTV's sweeping videography and landscape shots.
Fountain Square's average selling price has risen to $258,000, according to a report by real estate analyst Trulia. Some current listings on the site cost as much as $479,000.
Starsiak put it bluntly: "We've priced ourselves out of the market."
To keep up, Two Chicks had to branch out—first to the nearby Bates-Hendricks neighborhood, where Laine previously operated a law practice, and now to the old south side, an area broadly defined by South Street to the north and Adler Street to the south.
Broad impact
But the impact on Fountain Square remains.
Paul Dijak-Robinson, president of the Fountain Square Merchants Association and owner of My Pet Carnivore, a raw pet food store on Shelby Street, said the exposure from "Good Bones" has naturally complemented other businesses in the area.
"Whenever we tell people where we live, we very often get questions about whether or not we have seen the show or know the two of them," he said. "From all accounts, the show has been a positive reflection of the neighborhood."
Edward Battista, owner and founder of Bluebeard restaurant on Virginia Avenue, agreed, although he can't say the show directly boosted his Fletcher Place restaurant's popularity.
"We have been busy since we opened our doors [in 2012]," he said. "But I appreciate the development happening in the near-southeast side. It's not just happening in Indy; it's happening all over the country."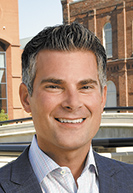 Gahl
The show has been felt beyond a neighborhood or two.
Since it premiered, the city has reported some of its busiest travel seasons, with last summer marking a record number of visits.
That's why Chris Gahl, senior vice president of marketing and communications for Visit Indy, calls "Good Bones" a "turning point"—and why he wants Two Chicks' success to continue.
"It's incredibly impactful to have a widely popular national television show to represent Indianapolis," Gahl said. "In the last three years, there's been a burst in popularity outside of Indy. … The show has caught the attention of other media [and] convention organizers."
But some are concerned about aspects of Two Chicks' growth.
Laura Giffel, president of the Bates-Hendricks Neighborhood Association, moved to the neighborhood in 2015. Three years later, she said, some parts of the area—for better or for worse—no longer resemble what she saw when she arrived.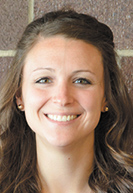 Giffel
Many of the neighborhood's historic homes have been updated; others have been overhauled with a trendier look; and some have been torn down and replaced with houses that sport a modern aesthetic.
"Personally, I like the historic look," Giffel said. "We lose some of that when we always build the boxy, modern houses."
But Giffel said that's a small problem compared with the TV series' larger impact on the neighborhood. "Good Bones" portrays the area as a quirky, trendy place for millennials, she said. While that has become increasingly true, many residents continue to live in poverty.
"The challenge of Bates-Hendricks is: What is our identity?" she said.
Critics accuse "Good Bones"—and developers who followed Two Chicks into the neighborhood—of exacerbating gentrification, a process of neighborhood renewal that leads to an influx of higher-income people and displacement of lower-income residents.
"Gentrification is a tricky topic because it does involve certain people moving out of the neighborhood and other people moving in," Starsiak said. "I think overwhelmingly the response from neighborhoods and residents is positive, but there are definitely some people who are not happy, either with that we're doing or with what's happening in general."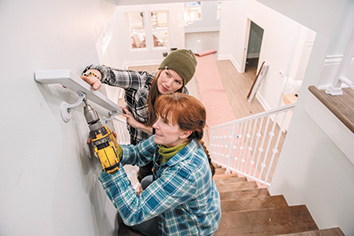 Laine, front, and Starsiak are now filming season four of "Good Bones." (Photo courtesy of HGTV)
Explosion
Critics say overdevelopment is shutting off avenues by which those with modest incomes can find housing.
"Many of our neighbors are in poverty, and nobody has a solution for them," Giffel said.
Brandon Mott, director and founder of the Bates-Hendricks Lincoln Center, Lincoln Lane Coffee Co. and not-for-profit Dathouse, purchased a Bates-Hendricks home in need of repair in 2007.
Later, with support from the neighborhood association, his organization bought a former strip club on Lincoln Street and in 2014 reopened it as a community center. By 2016, the center had expanded with a modest coffee shop and an after-school program.
But as the community center grew, so have property values and developer appetites.
"Since 2015, it's been a whirlwind," Mott said. "Then, in 2016, it just exploded."
Some of that surge in activity came as "Good Bones" exposed Bates-Hendricks' opportunities on TV.
Still, Laine said she and her daughter aren't trying to alter any community's identity.
"There's a different feel to each neighborhood right now and I really don't think it's our job as rehabbers to get involved in that or change it," she said. "It's to work within that frame that they've created."
And the women are adamant that they are not the only ones developing in the neighborhoods and therefore driving up prices.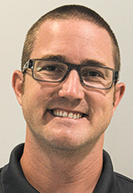 Burrow
Nick Burrow, who in 2008 co-founded development firm TKW with his brother Alex, signed younger brother Luke on as a full-time partner this year.
TKW has completed 121 single- and multi-family projects in the city, many of those in Fountain Square.
They, too, must navigate the inflated market—and because many of their homes are reconstructions, their costs are even higher. From their perspective, "Good Bones" triggered the rapid change.
"I think the show has driven up prices a lot," Nick Burrow said. The show "gets people down from Carmel and Fishers who become one-time investors."
That can hurt Two Chicks, too. Other developers sometimes watch the neighborhoods where the pair is working and then wait to see if they're successful. If so, they swoop in to do their own projects once property values are up and profit opportunities are many.
"Oh, you know what we should call those people?" Laine said. "Blisters. They show up when the work is done."
Mott acknowledged that the wave of developments brings a mixed bag for neighborhoods. But he said he knows Laine and Starsiak to be among the more compassionate developers.
"We won't fight development," he said, citing positive benefits, including better infrastructure and more involvement from the city. But, he added, "it's frustrating on both sides. Some developers demonize low-income folk, and some low-income folk think all developers are awful."
The butterfly effect
While "Good Bones" isn't HGTV's top-rated show, it sustains a solid audience, pulling in 1.6 million viewers in 2016.
The network's top series in recent years, "Fixer Upper," which followed the home rehab efforts of married couple Chip and Joanna Gaines in Waco, Texas, went off the air this year. In 2016, that program pulled in 4.4 million viewers.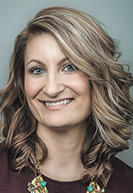 Long
Hollie Long, a media buyer for Carmel-based advertising and marketing firm Miller Brooks, said Laine and Starsiak could benefit from the hole "Fixer Upper" has left behind.
"Fixer Upper" probably helped "Good Bones" while it aired, too, she said, because popular shows have "a butterfly effect," elevating others on the same network.
But "those kind of rehab shows are a dime a dozen," she added.
Laine and Starsiak aren't banking on increased viewership to power their futures. And they say HGTV hasn't made them rich.
"People think we make a lot of money, but that's not true," Starsiak said, while sitting at the white painted dining room table at Two Chicks and a Hammer's old office near the corner of East and Lincoln streets.
In fact, Laine and Starsiak are looking for ways to diversify their incomes and their lives.
Laine is downsizing her TV schedule to spend more time with family and friends. She now works about "two-thirds" of the time she used to. And Starsiak is due to give birth to her first child anytime.
The women recently outfitted their former office with an apartment in its upper level and listed it on Airbnb as "The House That Two Chicks Built." Laine also operates an Airbnb out of her home and plans to add a separate apartment on her property soon.
While the women admit the Airbnb venture doesn't generate much revenue—only about $6,000 in 2017—they have a wide customer base, including a regular from Taiwan, and try to deliver a unique, personal experience to fans.
In the next year, the women also plan to open a home-goods store in a vacant theater building on Lincoln Street, which they recently purchased from a kitchen countertop company.
Current plans call for a retail area with "Good Bones" merchandise, a small eatery and affordable home goods handpicked by Starsiak and Laine. There will also be a "Karen's Korner," a hodgepodge collection of small hardware pieces and accessories—"what you never realized you needed or could use," Laine said.
When the partners open the shop—which could be as soon as next year—the building will cement their branding at the heart of Bates-Hendricks.
"We're always going to go where there's a little more need on top of the less expensive properties," Starsiak said. "You don't have to like the designs we do, but understand there's something for everyone. We want to help these communities."•
Please enable JavaScript to view this content.