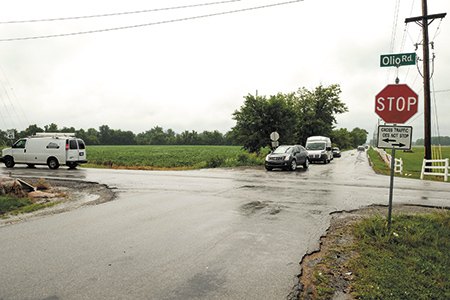 A $7 million to $8 million investment in Olio Road could open more than 125 acres east of Noblesville's corporate campus for development, city leaders say.
The city is planning extensive infrastructure work for Olio from 141st to 146th streets that officials hope will make vacant land in the area—including a site chosen last year for Duke Energy's Site Readiness Program—more marketable.
Slated to begin next year, the project widens Olio Road from two lanes to four, similar to the road's layout south of 141st Street. The project also includes plans to address drainage problems. Work will improve storm sewers along Olio Road and on 146th Street, which sees some flooding when it rains. Sanitary sewers will also be extended along the corridor.
And an upgrade is planned for the Olio Road and 146th Street intersection. Right now, city leaders envision a roundabout, but a traditional traffic signal is also possible, said City Engineer John Beery.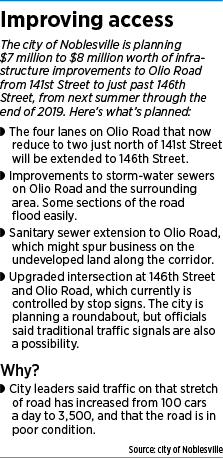 As part of the project, 146th Street between Olio Road and Bergen Boulevard will be widened to three lanes and will also see drainage improvements.
Currently, Noblesville is in the early design phase of the projects. Construction is slated for next summer and should be complete by the end of 2019.
Beery said Olio Road has needed attention for a few years. As the area has grown, that section of road has become a busier thoroughfare, used to avoid even more congested corridors.
"It's time, as things are growing out there and developing," he said. "Getting that half mile of road done is important to us."
This year, Hilton opened an Embassy Suites Hotel & Conference Center on the southwest corner of 141st Street and Olio Road. The $35 million development includes a 198-room hotel with a 20,000-square-foot conference center.
Across the street, BorgWarner Inc. recently opened a 100,000-square-foot technical center that's expected to eventually employ more than 300. Both sites have space for additional development.
The businesses join the already-bustling Saxony Corporate Campus near exit 210 off Interstate 69.
With all the growth, Olio Road sees significantly more traffic than it did 10 years ago—from less than 100 cars a day to about 3,500, Beery said.
"The road is narrow, and we have to rehab it more often because of increased traffic," he said.
The project could pay dividends for the city as it eyes the area east of the corporate campus for new business.
The city owns about 45 acres on the west side of Olio Road just south of 146th Street. The site last year was chosen for Duke Energy's Site Readiness Program, which identifies, evaluates and improves sites across the state for potential development.
The road project will close out the improvements planned for the site, Beery said.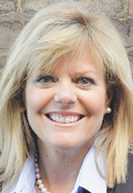 Johnson
Noblesville Economic Development Director Judi Johnson said Noblesville was running out of space for business parks when it applied for Duke's program in 2017. And since Duke announced Noblesville as one of the 2017 recipients of its $10,000 grants, city leaders have been talking with developers nonstop, Johnson said.
They're interested in the Duke site but also other undeveloped areas near exit 210, she said.
City leaders have long thought about improving this section of Olio Road, but increased interest from developers has helped push the project up their priority list, she said.
In July, the city unveiled a list of 10 capital-improvement projects it will pursue over the next four years. The Olio Road project is No. 5.
"The amount of projects wanting to look at the exit 210 area, that was the impetus to us putting the Olio Road project at the top of our capital improvement plan," she said. "This is going to be a very visible location to those seeking new construction."
Companies with plans to expand are on strict timelines, and they want development-ready land with all the needed infrastructure in place, Johnson said. The road project helps accomplish that.
"I've been wanting [the project] to happen for a very long time because Noblesville is on the cusp of attracting very large and exciting businesses," she said. "We just needed to be a little more proactive on the infrastructure improvements."
City spokesman Robert Herrington estimated the Olio Road project will open at least 125 acres for development.
Johnson predicted that the city will be making many business announcements in coming years as land east of the corporate campus is developed.
"We're excited for the possibility of this area of Noblesville," she said. "We care about all the areas, but we see the potential in this area for new construction."
The project will also benefit traffic flow for Ruoff Home Mortgage Music Center, which is west of Olio Road on 146th Street.
The eastern boundary of the music center's campus doesn't currently offer good pre- and post-concert access, Beery said.
Though traffic flows in and out of the venue much quicker than it did even a few years ago—Herrington remembers a time it could take three hours or more to get out—additional improvements will ease congestion, especially on Olio Road.
The city has been working with Ruoff—whose representatives did not return messages seeking comment—to obtain right of way that will be needed for the road project.•
Please enable JavaScript to view this content.