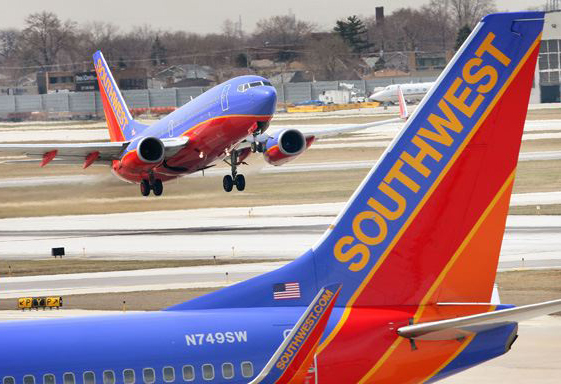 Southwest Airlines is cutting back on its service between Indianapolis and the Northeastern United States.
Dallas-based Southwest, which launched nonstop service between Indianapolis and Newark, New Jersey, in June, says it plans to discontinue the route in January. The airline also plans reduce the frequency of its flights from Indianapolis to Boston starting next month. 
New York area reductions
Jan. 6 will be the last day of service for the route between Indianapolis International Airport and Newark Liberty International Airport. After eliminating that route, Southwest will no longer offer nonstop service between Indianapolis and the New York City area.
Southwest spokesman Dan Landson said the airline is canceling the route because of low customer demand. 
The airline plans to replace the Indianapolis/Newark route with a nonstop route between Newark and Nashville, Tennessee.
Southwest began offering local nonstop service between Indianapolis and the New York City market in November 2015, when it launched a route between Indianapolis and New York's LaGuardia Airport. In June, the airline discontinued the LaGuardia route and began the nonstop Indianapolis/Newark route as a substitute.
Indianapolis customers will have other nonstop options to reach the New York City area. 
United Airlines offers multiple daily nonstop flights to Newark; and American Airlines and Delta Air Lines offer daily flights to both LaGuardia and John F. Kennedy International Airport in New York. Between those three airlines, Indianapolis is served by an average of 17 nonstop flights daily to the New York City area, the Indianapolis airport says.
Boston cutbacks
Southwest plans another reduction to its Indianapolis schedule beginning Sept. 4, when it eliminates one of its two daily nonstop flights to Boston Logan International Airport. The airline launched that route in 2015.
Additionally, Southwest will eliminate its Sunday flights between Indianapolis and Boston in January. The last Sunday flight on that route will be Jan. 6.
Landson said low demand was also behind Southwest's decision to reduce its service to Boston.
With Southwest's one remaining Boston flight and Delta's service to that city, Indianapolis travelers will have four weekday options for nonstop flights to Boston, the airport said. 
 
Please enable JavaScript to view this content.