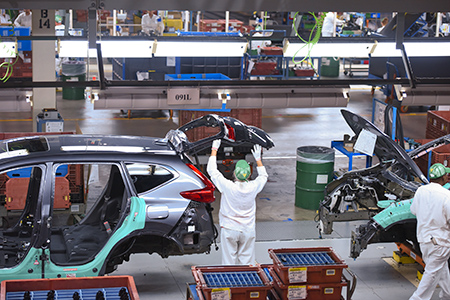 Mitch Daniels was in a Tokyo hotel room in March 2007 when he received a phone call he will never forget.
Daniels was in his second year as Indiana's governor and he was in Japan for a trade mission.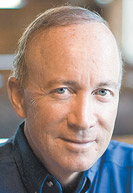 Daniels
Now, Honda was calling to say it planned to build its new $550 million auto plant in Greensburg.
When Daniels took office in 2005, economic development was a top priority. His administration worked to reduce taxes, streamline regulations and make Indiana more business-friendly.
That call from Honda, Daniels said, told him those efforts were working.
"The main thing it said is, Indiana is arriving as the place we want it to be," said Daniels, now president at Purdue University.
The plant began production on Oct. 9, 2008, with 900 employees making Civic sedans.
A decade later, some of the plant's benefits are clear: its workforce and production numbers have swelled, it's Decatur County's largest taxpayer, and its presence has strengthened Indiana's reputation as an auto-making powerhouse.
Yet at the same time, and for a variety of reasons, the plant's economic impact is diffuse.
No single community has been dramatically transformed by Honda's presence, not even Greensburg.
Honda is unquestionably "a big plus for Indiana, a big plus for southeast Indiana," said Ball State University economist Michael Hicks.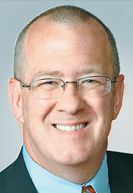 Hicks
But the plant has not had as much impact on Greensburg and Decatur County as casual observers might expect, Hicks said.
The plant is about five miles northwest of downtown Greensburg, technically within the city limits that have stretched out to meet it.
"If you drive through Greensburg now, you have very little evidence that that plant is there," Hicks said. "The downtown looks like it did in 2000 or 2005. It hasn't changed."
In large part, Hicks said, this is because Greensburg—a city of about 12,000—is not large enough to supply Honda's labor needs, and the community does not have the amenities that would attract large numbers of people to move there.
The plant employs 2,500 people—plus another 500 in a pool of temporary production workers whose numbers fluctuate depending on the company's needs.
(IBJ photo/Eric Learned)
Honda officials said production employees start at $17.67 per hour and can make as much as $22.09 per hour, or about $46,000 per year.
That's in line with wages at its competitors.
Conexus Indiana Vice President of Industry Matt Conrad said production jobs at Indiana auto plants typically pay starting wages of $17 per hour or higher, with pay topping out in the mid-$20-per-hour range.
The Honda plant is at "the top of the food chain" in the region's economy, said Plant Manager Tim Reisinger, which has helped it attract employees from 31 counties—27 in Indiana, three in Ohio, and one in Kentucky.
Decatur County supplies the largest number of those employees, with Marion County second. In fact, 39 percent of Honda's workforce comes from those two counties.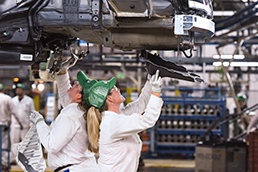 Production workers at the Honda plant in Greensburg earn as much as $22.09 per hour. (IBJ photo/Eric Learned)
Gradual change
The widespread employment base has tax implications, Hicks said.
In Indiana, income tax collections flow back to the county where the taxpayer lives, not where he or she works.
"The real economic benefits always accrue to the counties where the workers reside," Hicks said.
That's part of the reason Bryan Robbins, executive director of the Economic Development Corporation Greensburg Decatur County, said it's unrealistic to think any one big project will transform a community.
That's true even of Honda, which has invested a total of $1.1 billion in its 2.3-million-square-foot Greensburg plant and is the county's largest non-governmental employer.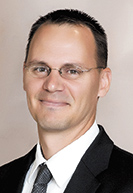 Robbins
"We had our own issues within the community that no outside corporation is going to impact," Robbins said.
For example, the city doesn't have enough of the type of housing that attracts newcomers, Robbins acknowledged, and it's still working to improve quality-of-life offerings like trails and parks.
Decatur County leaders had visited Georgetown, Kentucky, and Marysville, Ohio—both home to large auto plants—to learn what to expect in Greensburg, Robbins said.
"We knew it was going to be a gradual change," he said.
Honda's production numbers have been mostly steady the past several years, as has its workforce, and the manufacturer has no immediate plans for growth.
The plant had a growth spurt in 2011 when it added a second production shift with another 1,000 employees—a move that essentially doubled the plant's workforce and boosted annual production to 200,000 vehicles.
Myers
Honda boosted its output again in 2012, when it upped annual production to 250,000 vehicles and hired 300 more people.
Since then, its only expansion has been to hire about 100 employees last year when it added production of the CR-V.
The automaker prefers to run its plants at full capacity for maximum efficiency, said Tim Myers, a senior vice president at the Greensburg plant.
"Our target is to stay at the same number of manpower as we have today," Myers said.
That's possible, in part, because Honda's plants are built to be flexible.
The automaker produces Civics at multiple North American plants, for instance, so when the Greensburg plant started producing CR-Vs, its overall production numbers didn't jump. Instead, a portion of Honda's Civic production shifted elsewhere.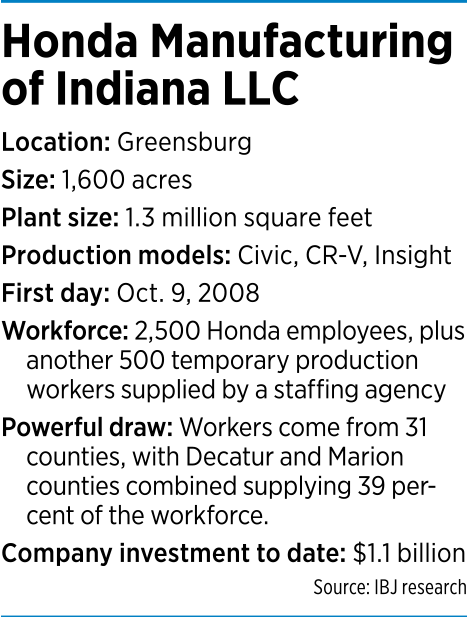 That makes the Greensburg operation different from Subaru Automotive of Indiana Inc., for instance.
The Lafayette plant is Subaru's only plant outside Japan, and it has added thousands of employees in recent years to keep up with a rapidly growing U.S. demand for its vehicles.
The Honda plant also supports dozens of Indiana suppliers. The plant's supplier network includes 49 Indiana companies, and in 2017 Honda purchased more than $2.3 billion in parts from those suppliers.
But only a handful of new suppliers came to Indiana to serve the Greensburg facility, Myers said.
"We were able to utilize the supplier infrastructure that was already in Indiana," he said.
Positive impact
Yet Honda's plant has had measurable positive local impacts, Robbins said.
When it comes to both population and wage levels, he said, "We've been able to keep steady and even grow—and I do attribute that to Honda and our other manufacturing staying strong."
From 2010 to 2017, Decatur County's population grew 3.9 percent, outpacing Indiana's statewide population growth of 2.8 percent.
In comparison, the 10-county economic region in southeastern Indiana that includes Decatur County saw only 1.6 percent growth during that period.
Likewise, Decatur County's per-capita income stood at $43,322 in 2016, up 23 percent from 2007. Per-capita income within its economic growth region was $41,740.
Still, Decatur County income levels are consistently lower than the state average—Indiana's per-capita income was $46,190 in 2016—but both the county and the state saw the same percentage income growth from 2007 to 2016.
Another tangible benefit, Robbins said, is that the plant generates significant property tax revenue for Greensburg and Decatur County—even with 10-year tax abatements local officials granted to the project.
"It's creating much more revenue for the municipality than it would have as agricultural land," Robbins said.
Honda Motor Manufacturing of Indiana paid $3.34 million in personal property taxes for the 2017 tax year, along with $2.34 million in taxes on the nearly 1,600 acres it owns. Those tax bills have generally increased over the last decade because the local tax abatements that greatly diminished Honda's tax bill in the plant's early years have been tapering off. They will end this year.
Honda's Indiana plant also helps strengthen the state's reputation as an auto manufacturing powerhouse, said Indiana Economic Development Corp. spokeswoman Abby Gras.
Indiana is home to five auto plants and more than 500 suppliers that in 2016 employed a combined 128,800 people, IEDC says.
The agency offered Honda $23 million in tax credits and another $1.5 million in training grants in 2008. The state also offered Honda another $1 million in incentives in 2016 when the automaker invested $52 million to prepare for CR-V production and to add an on-site training center.
"When automotive manufacturers and manufacturers in related industries are looking to invest or grow in the U.S., knowing that Indiana has the expertise and the skilled workforce ready to contribute to its operations is a big selling point," Gras said in an e-mail.
Beyond the financial effects, Honda's presence in Greensburg also brings benefits that are perhaps more difficult to measure.
When two separate tornadoes hit the city in May 2011, Honda sent crews of employees to help clean up the damage.
The plant also provides a psychological boost to the area.
Robbins, whose roots in the community go back five generations, said Greensburg had always seen itself in humble terms. "We were just a stop in between Indianapolis and Cincinnati," he said.
Honda's arrival helped the community see itself differently. If they were good enough to catch Honda's eye, what else might they be capable of?
"Up until the 2006 announcement, we'd never really had a globally impactful Japanese company like that," Robbins said of Honda. "I'll be honest: It was just a very prideful win for our community."
Landing the Honda plant was meaningful to the entire state, Daniels said, but especially to southeastern Indiana. "It did a lot for an area that really needed a lift."•
Please enable JavaScript to view this content.