CTO
DeveloperTown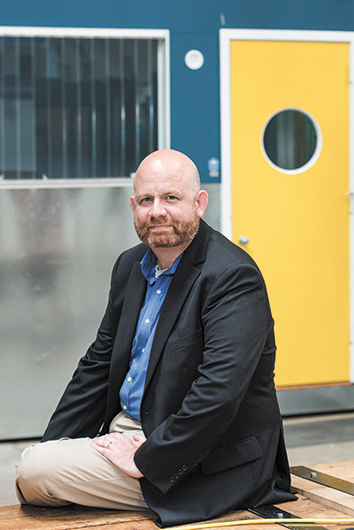 (IBJ photo/Eric Learned)
Major company achievements during tenure
Jason Vasquez co-founded DeveloperTown, and created and evolved its repeatable technology package and processes to build more than 200 projects using what is now a 20-plus-person software team. Its family of companies has expanded to include the core consulting business, a business incubator and multiple industry-specific startups. 
Recent tech problem solved
A distinctive feature of the DeveloperTown workspace is its tiny houses, each with a carriage light that can be turned on as a "do not disturb" signal. "This works great for the physical world," Vasquez said, "but it doesn't help with our virtual world." Solution: "We built a small IoT device that is Wi-Fi-connected and fits into a lightbulb. Whenever the light is switched on, the individual's Slack status is marked as busy, and notifications are temporarily disabled. And if I mark my status as busy in Slack, the light can come on physically on the house as well. Total team effort, but it was an absolute blast to put together."
Challenge faced that only tech people would understand
One of DeveloperTown's joint-venture startups, Waterly, assists communities with water treatment and safety data reporting. Vasquez built a custom domain-specific language "that allows a specialist to use Excel-like macro functions to, from a web page, safely define their calculations on an as-needed basis. … This allows for huge human-efficiency gains, as well as computer efficiency in allowing us to more accurately cache values when recalculating large volumes of data."
First computer
An Intel 8086 clone "with a stunning four-color CGA display and dual 5.25 floppy disk drives," recalled Vasquez. "My father announced there would be no games until I could type at least 30 words per minute. I can imagine he felt fairly secure that it would take me many months or years. … I surpassed the target within the first week, and was well on my way to four-color gaming bliss."​
The road
With bachelor's degrees in multimedia technologies and video production from Cedarville University, Vasquez worked for an Ohio ad agency before moving to Eli Lilly and Co. As a consultant with Fusion Alliance, he worked with Sallie Mae (now Navient) as sole developer on a multi-originator loan data system and then served with Interactions Corp. as chief architect and director of DevOps. There, clients included Apple Computer and Capital One. 
Mentor
College adviser Wes Baker. "He always struck the right balance of academic theory, cutting-edge knowledge and the pragmatics of combining those in the real world."​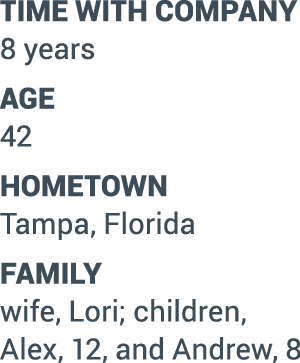 Go-to web sites
"I'm a practicing developer, so I'd be lying if Stack Overflow wasn't here," he said. "I do spend some time on the loftier sides of Reddit, if you could find such a thing." Vasquez also began coaching his son's VEX IQ robotics team, "so I've spent a lot more time on various resources related to that as I try to become a better coach."
Favorite gadget
"​I have a small electronics lab in my house​, so it's really a collection of things there that I like to go work with, from salvaging old hardware off of 'broken' equipment, to reverse-engineering circuits with a microscope and oscilloscope."
My job would be easier if …
"sleep wasn't necessary."•
Check out more CTO honorees.
Please enable JavaScript to view this content.