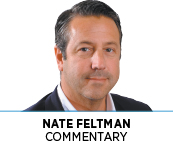 Have you noticed all the "help wanted" signs lately? For the first time in 18 years, there are now more jobs available than Americans out of work. Yes, you read that correctly. We have a people problem—not enough of them. In Indiana alone, more than 80,000 jobs are unfilled. Our unemployment rate stands at 3.2 percent. We're effectively at full employment, and well below the national average of 3.9 percent.
The labor shortage is in every sector (and at every skill level)—manufacturing, transportation, health care, hospitality, agriculture and technology. The labor shortage is so bad in Elkhart, the RV capital of the world, that some employers have stopped drug-testing applicants.
According to a recent survey of small-business owners, the inability to hire workers is preventing over half of those surveyed from expanding their operations. Just think of the increased productivity, income, tax revenue and economic growth that filling the 80,000 Hoosier job openings would produce in our state.
So, what can be done to address the labor shortage? One idea that would pay immediate dividends: Retain the talented and hard-working foreign students who attend our great universities. Not only are these potential workers educated, but studies show immigrants are more likely to take a risk and start a business.
Given the fact that Indiana ranks 42nd in the country in the number of college grads on a per-capita basis, we should be doing whatever we can to convince those who choose an American education choose Indiana as their next home. Imagine if Sergey Brin, the Google co-founder whose family emigrated from the former Soviet Union, or Tesla and Space X founder Elon Musk, from South Africa, both of whom graduated from American universities, had called Indiana home.
Today, we allow some, but not all, of this talented and motivated labor force to remain in our country after training these individuals at our world-class universities. About 1.2 million foreign students are enrolled in American colleges and universities (double the number from just 10 years ago). Indiana has more than 25,000 foreign college students, with Purdue and Indiana universities leading the way.
Unfortunately, federal visa rules present a significant hurdle to retaining this diverse and talented pipeline. To stay and work in the United States, the graduate must obtain either an H-1B visa, the number of which is capped each year, or qualify for the Optional Practical Training Program. In both cases, the years a graduate can stay and work are limited. Often, talented foreigners are forced to go home when their visa is denied or not extended.
Other countries are jumping at the chance to recruit these people after they've attended our finest universities and gained strong work experience.
It is time to push our legislators to make common-sense adjustments to our visa system to allow these foreign students who obey the law, support themselves and are able to speak English to stay, work, form businesses and start the path to American citizenship if they want to live the American dream like millions of immigrants before them.
On the state level, why not develop a program that assists our graduating foreign students in navigating the federal visa maze and perhaps provide them with a financial incentive to stay in Indiana after graduation? By doing so, Indiana would provide a strong signal to the world that we want to further diversify our state with some of the most talented people the world has to offer. This would further enrich the state for all Hoosiers and help build a more economically vibrant Indiana.•
__________
Feltman, an attorney and former secretary of commerce for the state of Indiana, is a shareholder in IBJ Corp., which owns Indianapolis Business Journal. To comment on this column, send email to [email protected]
Please enable JavaScript to view this content.