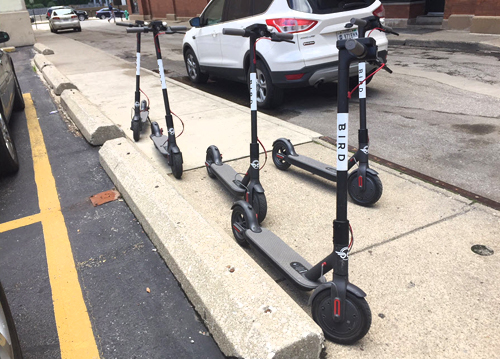 Scooter-rental company Bird Rides Inc. was so happy with its first business experience in Indianapolis that it plans to return with nearly 10 times as many vehicles.
In its permit application, filed with the city Aug. 7, Bird said it wants to relaunch service in Indianapolis with 6,000 electronic scooters that it will offer throughout most of the city.
That's 4,200 more scooters than rival operator Lime applied for this month in its permit application with Indianapolis.
Bird operated locally for about 28 days before pulling its scooters off the streets in mid-July at the request of the city while City-County Council members came up with a regulatory ordinance for scooter-rental services.
The council approved the new regulations July 16 and began taking license applications this month. Bird and Lime are awaiting approval of those applications.
In its application, Bird said Indianapolis had some of the highest ridership rates the company has seen since it began rolling out scooters in cities throughout the United States. The Santa Monica-based company, founded last year, operates in about 30 markets.
Bird said it had about 650 scooters on the ground in Indianapolis in its first go-around. More than 16,000 unique users rode Bird scooters more than 50,000 times. Each scooter averaged more than five rides per day with rates often spiking to more than seven rides per day.
Bird indicated it would operate in most of Marion County and said it believed the Broad Ripple and Fountain Square areas would be ripe for future expansion.
The company said it would continue to charge $1 per ride plus 15 cents per minute. It also plans to offer a low-income plan that waives the $1 fee for those eligible for state and federal assistance.
The application says Bird also plans to deliver free helmets to those who request them and deploy a safety team to offer safety advice and ridership information.
The ordinance passed by the city calls for the scooter-rental services to pay a $15,000 annual license fee, plus $1 per scooter per day.
That would translate into more than $2.2 million in payments to the city from Bird each year and $672,000 annually from Lime.
The city initially said it expected applications to be processed within a week, but now says it has no timeline for the decisions.
"This is a new process and we want to make sure we get it right the first time," Brandi Pahl, a spokeswoman for the Department of Business and Neighborhood Services, told IBJ earlier this week.
Please enable JavaScript to view this content.