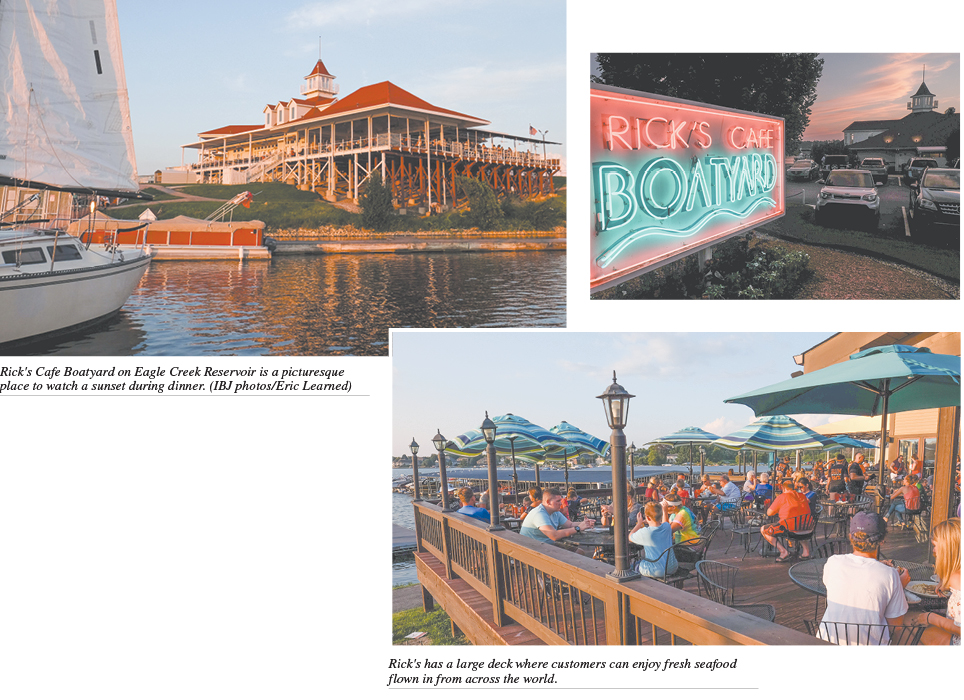 Maybe it's a side effect of being raised in landlocked Indiana, but for me there's something soothing about hanging out near large bodies of water—especially at mealtime. Bring on the umbrella drinks.
Thankfully, like-minded Hoosiers don't have to wait for vacation to indulge our desire for waterfront dining. In addition to a bevy of options along the Central Canal in Broad Ripple and downtown Indianapolis, we also have a few tasty "coastal" options.
Wolfies Waterfront Grill
20999 Hague Road, Noblesville
Situated in a marina on an eastern shore of bustling Morse Reservoir, this comfy, casual eatery boasts a sprawling deck that's perfect for watching the sun set over the lake. And there's plenty of room for live music and even dancing, so the party can continue once that show ends.
This is the original location of what is now a five-restaurant Hamilton County chain offering what it calls "Northern woods" cuisine. Think hearty options like Chicken Campfire Pasta ($14), Mountain Ridge Ribs ($15/$22) and Stonebrook Salmon ($16) along with the requisite soups, salads, sandwiches and wraps.
Pro tip: Try Scott's Supreme Chili or Nyla's Chicken Salad (available as a panini or a wrap) to taste a couple of owners Scott and Nyla Wolf's specialties. Prefer Shrimp and Corn Bisque or Baja Fish Tacos? There's always next time.
Wolfies at Geist
11699 Fall Creek Road, Fishers
Located on the west side of lively Geist Reservoir, this is the newest Wolfies option. It opened in May after the Wolfs acquired and renovated the building, which had housed at least four other restaurants since the mid-1990s—most recently LakeHouse at Geist.
The menus at all Wolfies locations are identical, and the two waterfront restaurants share similar outdoor amenities. The Geist property includes a massive dining deck, an outdoor beer garden and an enclosed (and recently air-conditioned) atrium for those days when the weather doesn't cooperate.
Summer weekends promise plenty of chances to watch boats cruising the reservoir, and bands perform on Friday and Saturday nights.
Rick's Cafe Boatyard
4050 Dandy Trail, Indianapolis
Nestled between Eagle Creek Airport and the bucolic Eagle Creek Reservoir, this restaurant has a decidedly upscale vibe. And owner Rick Albrecht has embraced its location by specializing in seafood flown in from wherever it's freshest. On a recent Saturday, the "fresh catch" selections included salmon from Scotland and scallops from Massachusetts, along with Indonesian shrimp and Hawaiian tuna.
Pro tip: If you can't decide on a dish, try the Fried Grouper Reuben ($18). Tempura-fried grouper is sandwiched by Swiss cheese, topped with coleslaw and Thousand Island dressing, and served on grilled marble rye alongside house-made kettle chips. O.M.G.
The restaurant's name, inspired by Rick's Cafe Americain of Casablanca fame, also gives a nod to its geography—and its docks, which can accommodate more than 100 boats at a time. Most of the slips are rented to boat owners for the season, but some are reserved for diners.
Dine on the Causeway 2018
Cicero Causeway
Sept. 8
The Our Town Cicero Main Street Association is hosting its third-annual fundraiser Sept. 8, turning the Jackson Street causeway over Morse Reservoir into an outdoor dining room. (In the event of rain, a tent will be set up at nearby Red Bridge Park.)
Fort Wayne-based Hall's Catering is providing the food, which will be accompanied by top-shelf cocktails and live music. Tickets are $100 each and proceeds benefit Our Town Cicero operations, including the popular Taste of Chocolate event.
Coming soon:
Boathouse Kitchen & Swan Dive
409 W. Jackson St., Cicero
Once the home of a waterfront bar called the Lazy Frogg, a vacant Morse Reservoir building just west of downtown Cicero is poised to re-emerge as Boathouse Kitchen & Swan Dive.
The restaurant's Facebook page is short on details, promising only that it is coming soon, but The News-Sentinel in Fort Wayne has reported that Matt Hall, grandson of the local Don Hall's Restaurants chain founder and namesake, is the culinary man behind the curtain.
Matt Hall worked at Hall's Castleton Grill in Indianapolis for 23 years before it closed in 2017. The new restaurant is not part of the Hall's chain, The News-Sentinel said.•
Please enable JavaScript to view this content.