Kristie Sweeney, principal of SENSE Charter School, spent a recent Friday with a flashlight in her hand, investigating a roof leak that was dripping water into the school building.

Without a central office available like in a traditional public school, Sweeney is pulled in multiple directions—often not in the direction of the classroom—despite her passion for kids and her role as the school's instructional leader.

"I got to two classrooms all day today," Sweeney lamented another day. "My goal, if I had the ideal job, would be to spend most of my day in the classroom. The great thing about being a charter is authority and flexibility. The hard thing is, not only do you have to be the educational leader, you have to have the business mindset as well."

Sweeney said she recently spent her time attempting to renegotiate a contract with the school's custodial company, which wanted to increase its prices, preparing a PowerPoint presentation for the school's upcoming board meeting, and sitting in finance meetings.

A new not-for-profit launched with funding and support from The Mind Trust aims to help redirect the time of charter school leaders like Sweeney back to the classroom.

The Center for Innovative Education Solutions, which has launched through The Mind Trust's education entrepreneur fellowship, will act as a comprehensive service center for schools, offering, for a fee, back-office supports such as "chief financial officer-level support," preparing board documents, putting together budget documents and bookkeeping.

The group hopes eventually to expand to include a legal help desk and services such as IT procurement, grant-writing support, help with audits, and special education support.

Joe White, The Mind Trust's vice president of school support, said he believes "an overwhelming majority" of school leaders are able to do these things independently but their "precious commodity is time."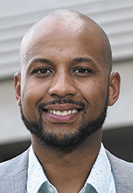 White
"We wanted to create something that was nimble and protected the autonomy and decision-making of a school leader, that took some of those non-academic-related responsibilities off their plate so they can focus on the most important things," White said.

The group could build a sizable clientele, given the more than three dozen charter schools and autonomous "innovation schools" within Indianapolis' boundaries.

Some of those schools are part of nationally run management organizations that could provide back-office supports to school leaders. Other schools have less support, or at least need additional help in their first year or two of operation, when they are also trying to grow their enrollment.

Patrick McAlister, director of Mayor Joe Hogsett's Office of Education Innovation, described charter school leaders as "utility infielders."

"They have a diverse set of responsibilities, often filling the gaps their teams require," McAlister said in an email. "This takes away from time they could spend coaching and supporting teachers and students as their school's instructional leader."

McAlister said The Mind Trust group will "help charter school leaders reduce the time they spend on essential yet time-intensive administrative tasks and increase the time they can spend improving student outcomes."

The not-for-profit is being funded at first by The Mind Trust, which has invested $400,000. That money is funding salaries, benefits, access to consultants, and other resources for Executive Director David Rosenberg and Finance Director Brian Anderson.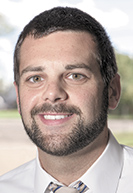 Rosenberg
Rosenberg previously was operations officer for Indianapolis Public Schools, and Anderson served as Ball State University's fiscal oversight director for its office of charter schools.

Rosenberg's group is the 10th not-for-profit to launch out of The Mind Trust since its founding in 2006. The idea came from feedback the organization kept hearing from school leaders about what kind of support they needed.

He said the group fills a need because schools currently hiring out back-office services usually do so with for-profits.

With the Center for Innovative Education Solutions, he said, schools "will only have to pay for what they need," and the group will work directly with schools within their budget. Rosenberg said costs for services would depend on the school.

"I think this is really exciting for the charter sector," he said. "We really went and listened to charter leaders about their needs. I think it's exciting for leaders to have a one-stop shop they can turn their needs over to."

The charter sector's need for back-office support services isn't without irony, given that the sector grew out of a desire to eschew the "central office" bureaucracy in the traditional public sector.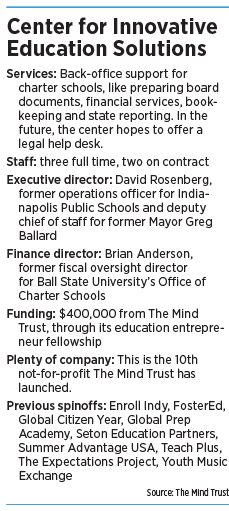 Does the formation of the Center for Innovative Education Solutions demonstrate the need for a central office of sorts?

"It is a good question, something we've talked about internally," White said. "The key lever here is that the service center will not be dictating how decisions are made at the school level, but rather the school leader will still dictate the operations of the school and the instructional vision."

Sweeney said the services the new not-for-profit is offering could be "very beneficial for new leaders" because "the finance piece is really something hard to get your head around."

She's not sure, though, whether the new center is right for SENSE.

"I think it would boil down to cost-effectiveness and how we leverage dollars to ensure we're doing the best by student money," said Sweeney, who is considering hiring a full-time staff member to take on human resources work as the school keeps expanding.

"I would be interested to see what's on the menu," she said.•