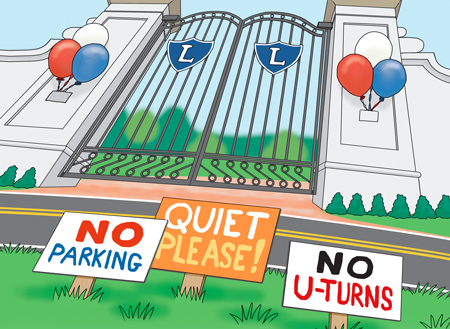 A procedural move by the city of Carmel has ended months of formal negotiations between the city and Forrest and Charlotte Lucas over dozens of special events they host each year at their estate.
But the controversy is far from settled. The city says it will enforce its zoning rules if they are violated and the Lucases are planning to host more parties—even as they promise to continue working with the city to appease frustrated neighbors.
The Carmel Board of Zoning Appeals had been set to act Monday night on the Lucases' appeal of the city's explanation of a BZA ruling and what types of parties the couple could and could not host on their estate at 1143 W. 116th St.
The explanation—called a determination—had been written by Michael Hollibaugh, director of Carmel's department of community service, after the BZA had denied special variances city officials say are necessary for the types of semi-public events common at the massive estate.
The Lucases have been hosting soirees benefiting not-for-profits as well as anniversary parties, birthday celebrations, political fundraisers and weddings, generating complaints from neighbors about noise and traffic The city's zoning ordinance does not permit special event venues or party halls to be operated within the R-1 zoning district where the estate is located.
The Lucases, however, never appealed the actual BZA ruling, which is now final, although the city and the couple have spent months trying to negotiate a compromise.
Then last week Hollibaugh withdrew the determination, which essentially ended the appeals process. The Lucases' attorneys then formally withdrew the appeal.
Hollibaugh said he originally wrote the determination to explain that Carmel's Unified Development Ordinance would allow the Lucases to host four outdoor special events a year. The letter, dated Nov. 9, also explained the BZA ruling, stating that any commercial use of the property must cease within 30 days. 
In December, the Lucases appealed the determination, and an appeal process has been underway for months. The Lucases contend the determination sought to impose restrictions on the Lucas Estate that are not found in the current zoning ordinance and are unreasonable and constitute selective enforcement. They've also argued their events are not commercial in nature.  
The Lucases have hosted events at their estate since 2011. They do not charge rent for use of the property, Forrest Lucas said.  
"Charlotte and I only allow our property to be used for charities, fundraisers or other activities that we invite or select," Forrest Lucas said in written comments. "Charlotte and I have personally donated hundreds of thousands of dollars and have allowed our property to be used to raise millions of dollars from our guests for the local charities. Our property is different than 'event venues' where no one lives and whose purpose is to make money."
Lucas said he doesn't need any special variances to hold events on his property but chose to request one because the city had asked they do so.
"Legally, this denial did not change anything," he said in a media statement issued Monday afternoon. "What we were legally doing before the denial, we could continue."
Since at least February, the city and the Lucases have been trying to negotiate an agreement regarding Hollibaugh's determination but have not been successful, according to Carmel city officials. The city and attorneys for Lucas have communicated back and forth via letters and in person trying to negotiate a compromise. 
In one letter, Hollibaugh said the city would not prohibit the Lucases from opening their property to guests at outdoor events for political and not-for-profit fundraising, but he raised concerns about online advertisements, including those on social media, promoting the estate for weddings and other special events, saying those advertisements contradict Lucas' statements that the property is not being used for commercial purposes. 
In a response to the city, Lucas attorneys reiterated that the estate is not being used for commercial business such as a catering establishment, a private club, or a meeting or party hall. Nor are the Lucases conducting for-profit events that compete with private enterprises on real estate properly zoned for business, the letter states.  
The appeal was scheduled to be heard by the Carmel Board of Zoning Appeals Monday night after it was continued in July to allow the parties to meet with a mediator. But last week, the appeal was withdrawn after the city withdrew Hollibaugh's determination.
"Unfortunately, even after formalized mediation efforts, any attempt to achieve a reasonable resolution failed," Hollibaugh wrote in a letter. "Therefore, it now seems prudent to withdraw my determination and allow the BZA order to stand on its own merits, without any interpretation by me."
Hollibaugh's decision to withdraw his determination has no effect on the BZA ruling since it was never appealed, the letter said. It remains in effect and can be enforced to the "fullest extent of the law."
"Failure to comply with the BZA order may result in the City of Carmel pursuing enforcement action against your client," the letter ends.
Carmel officials declined to comment on what actions the city will take if the Lucases continue to host events that aren't a political or not-for-profit fundraiser or to explain where the issue stands after Hollibaugh's determination was withdrawn. City spokesperson Dan McFeely said the city does not comment on matters that are in litigation.
Since the September BZA meeting, the family has continued to host events, including one this weekend that coincided with Carmel's Artmobilia.
But Lucas said he hopes they can continue to work together to find a resolution. Although the city and the Lucases did not resolve all of their differences in mediation, they did make progress, he said.  He said they've met with neighbors many times and believe they have satisfied all but a few protesters. 
"We will continue to be sensitive to our neighbors and their legitimate concerns," he said. 
"We are not looking for special treatment," Lucas said. "We have repeatedly said that we are willing to abide by the same rules as everybody else. We have committed to work with the city of Carmel to ensure that we are in compliance with the zoning and noise ordinances.  We want to continue to use our property to be charitable to people who need it."
Please enable JavaScript to view this content.