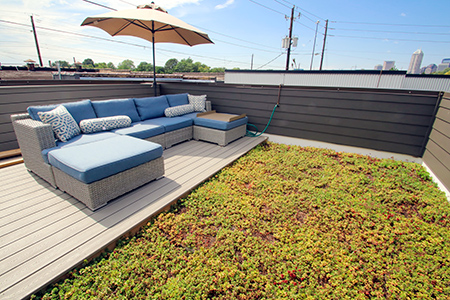 Since retiring from his career in banking 11 years ago, 71-year-old Mike Wright has been on a mission to simplify, to eliminate many of the possessions he had accumulated in his life.
Over the last decade, he's moved from a three-story, 2,700-square-foot condo to an 1,100-square-foot apartment to, finally, his current residence—a box-shaped, custom-built, ultra-spare Fountain Square home.
"I had to get rid of a lot of stuff," Wright said. "It was very therapeutic. When you downsize, it forces you to figure out what's important and what's not."
When it came to his new house, his most important desires included a compact footprint and modern layout. After scouting around the Fountain Square area for an empty lot on which to build, he discovered the work of architect Brian Burtch, principal at Neon Architecture. The two hit it off immediately, and Wright decided to build on the lot next to Burtch's own modern home.
Retired banker Bill Wright, left, hired architect Brian Burtch to design a sleek home in Fountain Square. Burtch, who lives right next door, gave the home heated concrete floors. (IBJ photo/Lesley Weidenbener)
The two abodes aren't clones, however. While Burtch's residence was based on manufactured housing, Wright's is scratch-built, meaning it could be slightly wider. But not much. The entire lot is just shy of 1,600 square feet, and the two-story home is only 1,230 square feet.
The first level is floored with stained concrete embedded with a heating and cooling system. A small entryway leads into the minimally decorated living room and a "dining area" consisting of a slightly out-of-place antique table with folding sides. It's a family heirloom Wright couldn't part with. Even so, it's not long for the house.
"That dining table is going to go away as soon as my niece, who just got married, gets a permanent place," he said.
The home's tiny but complete kitchen can be separated from the living room by a sliding barn door—a door that can traverse the entire first floor to also block the entryway, if necessary.
It's architect Burtch's subtle way of clapping back at the current mania for an open floor plan, which is "rooted in great theory and can work in many applications, but has become the default for many of today's residential designs, in lieu of designing a space," he said. "This floor plan is an exploration in how to maintain a strong connection while still providing definition and separation."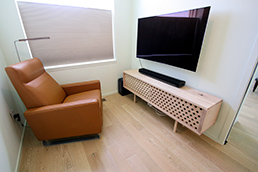 A TV nook at the top of the stairs. (IBJ photo/Lesley Weidenbener)
The second floor, reached via an oak stairway fitted with custom metal hardware by Centerline Studios, opens onto a small loft area furnished with a large TV, a streamlined leather chair, and little else. It adjoins the guest bedroom (currently serving as Wright's office), and sits next to the guest bath and laundry area. Wright's master suite is at the rear of the house—a compact sleeping area with an entire wall of closets on one side, and a bank of windows overlooking the neighborhood on the other. The master bath sits across the hall.
"It's tiny, but it works," Wright said.
Back on the first floor, the living room opens via sliding glass doors onto a minuscule patio separating the house from the one-car garage. A line of elegantly rusted, modern-looking steel planters delineates the property on the left, while a privacy fence erected by Burtch around his own home demarks the right. There's nothing fancy about the garage itself, but the roof, reached by a custom steel staircase, holds a surprise—a wood deck next to an area planted with ground cover. It offers an excellent view of downtown.
The home's exterior couldn't be more different from the traditional cottages that dominate the neighborhood. Rectangular in shape, it's clad in corrugated steel panels and trimmed in cedar.
Though its spare design sets it apart—to put it mildly—Burtch said its tidy scale helps it fit into the neighborhood of chiefly "small-scale homes, with a few single-story shotgun homes on the block. We looked to these homes for inspiration on scale, allowing for the home to immediately feel integrated into the street."
Wright, for his part, is more than satisfied with his spare new living quarters. The only thing he misses is a dedicated room for meditation. But he makes do by using the living room or, on clement days, the roof of the garage.•
Please enable JavaScript to view this content.