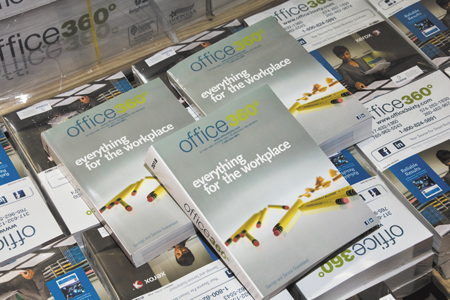 The office-supplies field is not what most would consider a sexy industry, and with annual growth hovering around 2.5 percent, it's not a particularly fast-growing one, either.
Now Amazon is jumping in full force alongside industry behemoths Office Depot and Staples, making the industry even less inviting for mom-and-pop retailers.
But none of that has deterred three Indianapolis brothers, who have built an independent office-supplies company into a formidable competitor in less than a decade. Despite its success, Office360 still has trouble getting the ear of potential clients—including some in its own back yard.
Office360 had revenue near $38 million last year and is on target to hit $43 million this year. If the company hits its projections, revenue will have nearly tripled since 2013.
Co-owners Steve Nahmias, 60, Scott Nahmias, 53, and Lenny Nahmias, 49, have expanded the company through organic growth and acquisitions.
Since 2008, it has made six acquisitions, starting with Fishers-based The Office Mart. It acquired Indianapolis-based SaveItNow in 2013, and made an acquisition in each of the last four years, picking up operations in Mishawaka, Richmond, Fort Wayne and Piqua, Ohio.
The Nahmias brothers are in talks with two other office-supplies companies and expect to close on at least one of those deals by year-end.
"We're making small, strategic acquisitions," Steve told IBJ. "We're not just making acquisitions to add volume."
"The acquisitions are stepping stones to grow the footprint," Lenny added.
Office360 looks for companies with good local reputations whose owner would be willing to stay with the company.
"We're looking for acquisitions that allow us to get into a market," Steve said. "We capitalize on their good reputation and implement our systems to grow."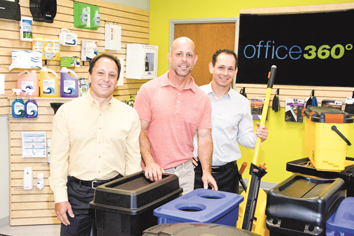 Office360 co-owners Steve, Scott and Lenny Nahmias (left to right) have added janitorial supplies to their inventory of traditional office supplies.(IBJ photo/Daniel Axler)
The founders are eyeing growth in southwestern Indiana as well as Kentucky. And they have turned up the heat on marketing—starting a blog, Instagram and Facebook accounts last year and hiring a staffer, Abigail DiSano, to oversee those efforts.
Office360 is also recruiting major new customers. This year, it signed deals with two of the state's largest hospital systems—which are now the company's first- and third-largest clients. And in 2017, it signed a deal with a group of more than 20 independent hospitals in Indiana and Ohio. The company is in the process of implementing that contract.
Dave Waltman said what Office360 has accomplished in this ultra-competitive market has been "amazing."
Waltman's company, Mishawaka-based Commercial Office Products and Supply, was acquired by Office360 in 2015. He remained with the company and is now northwest regional manager and profitability adviser.
The three brothers—who are equal owners—"understand the importance of scale in this business," Waltman said. "But they also understand the value of offering a hometown feel and local service. They bring a unique perspective to this business."
Like father, like sons
The Nahmiases aren't new to the business. Their dad, Aaron "Harry" Nahmias, started Atlas Office Supply in 1963.
"We all grew up working in this business," Scott said. "We've seen a lot of changes."
Atlas had annual revenue of $4 million when the brothers joined the company in the mid 1980s and grew it to $35 million in 1998, when it was sold to Boise Cascade, which later morphed into Office Max.
At the time, Harry owned 55 percent of the company and his sons the other 45 percent. The acquisition was a good way for Harry to cash out during a time of consolidation, Steve said.
The entrepreneurial bug bit the brothers again a few years later and they started Document Management Co. in 2001, doing business as NowRecords.
Sensing a need for a locally based business-to-business office-supplies company, the brothers got back into that game in 2008. The Nahmias brothers sold the document management company—which operated out of the old Quaker Oats factory just north of Garfield Park on the city's south side—to New Jersey-based GRM Document Management in 2012.
But they knew they would have to operate Office360 differently than Atlas.
Consolidation and the growth in digital technology and subsequent decline in use of supplies like paper, toner and pens meant Office360 would have to be more diversified than their father's company.
The expansive—and sometimes unusual—offerings in the storeroom of the company's 80,000-square-foot headquarters on Indianapolis' northwest side is proof of its strategy not only to diversify but to get their clients whatever they need.
Customers at the Indianapolis headquarters are greeted by a showroom filled with furniture ranging from practical to stylish and chic. Of course, there are boxes and boxes of paper, ink pens, toner cartridges and paper clips, but one large room is filled with janitorial supplies.
An adjacent room contains cases of soda pop, boxes of snacks and a sizable section of personalized items—coffee mugs, shirts, pens and more—emblazoned with clients' names and logos. Office360 went into corporate branding this year. There are also shelves filled with first aid supplies, even defibrillators.
Today, 59 percent of revenue comes from traditional office supplies, 20 percent from furniture, 19 percent from janitorial and break-room supplies, and 2 percent from corporate branding. The janitorial and break-room supplies and corporate branding segments are the fastest growing, Steve said.
Professional, not formal
The company's culture is decidedly laid-back. There's no dress code and the owners are much more likely to be found casually dressed in the trenches with their employee

s than wearing a shirt and tie. Scott joked that the only reason he wore a collared shirt on the day a reporter showed up is because he thought he was getting his picture taken.
"We don't stand on formality here," Steve said.
And while the owners take their business seriously, they don't take themselves seriously, with Steve quipping, "Don't make us out to be smarter than we are."
That doesn't mean the company isn't professional—and precise.
Steve handles sales functions, Lenny handles operations, and Scott handles marketing and purchasing. The company has grown to 108 employees, with 85 working out of central Indiana.
Office360 caught Butler University's eye more than a decade ago largely because it was a local firm. Shelly Baldauf, Butler's purchasing manager, quickly realized it could also deliver like the industry's giants.
"Not only did they bring us a feeling that their customers matter, they delivered on everything they said they would," Baldauf said. "They have set a very high standard for customer service."
While Baldauf often deals with a sales representative, she said there's no problem contacting one of the owners if she needs them.
"I couldn't say enough nice things about this company; their follow-through, their fill rate and next-day desktop delivery is all top-notch," she said.
'Toe-to-toe'
Office360 has contracts with 39 distribution centers nationwide to assure it can offer speedy delivery to much of the country. That allows it to serve national clients—such as The Finish Line—as well.
Waltman said the company's "proven ability to thrive" in a challenging marketplace, along with its culture, is why he decided to join forces with Office360.
"They go toe-to-toe with much bigger competitors and they offer a number of services those bigger companies don't," he said.
Office360, Waltman noted, offers to tailor billing for clients and handles the distribution of customized and proprietary merchandise in specialized ways.
"There are a bunch of companies that sell what we sell," Scott said. "We've spent a lot on technology, and we do a lot of things other companies won't."
Almost 90 percent of Office360's orders arrive electronically, "and our ordering process with our suppliers is much more efficient," Steve said. "The chat feature has improved the efficiency of our customer service queue, while acquiring and distributing information is quicker than ever."
Despite Office360's success, there are still serious challenges, especially due to the company's size.
"There are companies that won't even take our calls," Lenny said. "Even with some locally based companies, they won't even listen to our pitch. … They think we're just another mom-and-pop that can't do what we say we can.
"It's frustrating because I know we could do a better job for them than their current provider," he added.
But the Nahmias brothers don't waste much time complaining about factors they can't control.
"We're focused on creating a niche where we offer a higher level of service and support and we're easy to deal with," Scott said. "We think if those things are important to you, we're your answer."•
Please enable JavaScript to view this content.